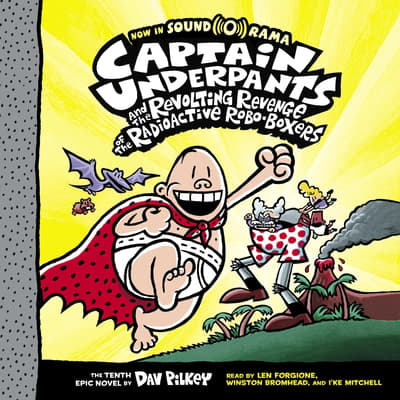 Format :

Library CD

(In Stock)
Available on 02/02/2021

ISBN: 9781338655971

Available on 02/02/2021

ISBN: 9781338655971
Category:
Fiction/Humor
Audience:
Children (8–12)
Language:
English
Summary
George and Harold have to figure out how to fix history in the tenth book in this #1 New York Times bestselling series by Dav Pilkey, the creator of Dog Man!
George and Harold have been turned into evil zombie nerds doomed to roam a devastated, postapocalyptic planet for all eternity! Unfortunately, the boys can't count on Captain Underpants for help because Tippy Tinkletrousers and his time-traveling hijinks prevented George and Harold from creating him in the first place! With Tippy having changed the course of human history forever, George and Harold will have to figure out a way to change it back!
Details
Available Formats :
CD, Library CD
Category:
Fiction/Humor
Audience:
Children (8–12)
Language:
English
To listen to this title you will need our latest app
Due to publishing rights this title requires DRM and can only be listened to in the Blackstone Library Beta app
DRM (Digital Rights Management) is a copyright protection for digital media. While much of Blackstone Library Beta's content is DRM free, and allows for usage across platforms, select products on Blackstone Library Beta are required by publishers to have DRM protected files. These products will be playable exclusively on the BlackstoneLibrary.com apps, available for iOS and Android devices.
To listen to this title you will need our latest app