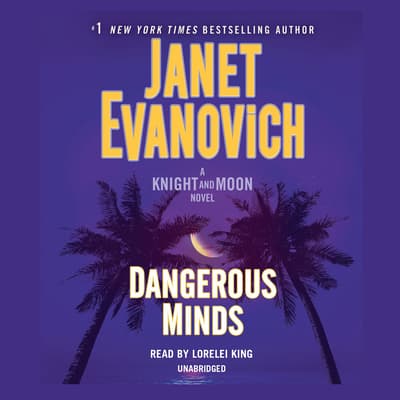 Format:

Library CD

(In Stock)
Category:
Fiction/Thrillers/Suspense
Audience:
Adult
Language:
English
Summary
New York Times bestseller
NEW YORK TIMES BESTSELLER • The irrepressibly charming duo of Emerson Knight and Riley Moon returns in another gripping mystery by #1 New York Times bestselling author Janet Evanovich.
Buddhist monk Wayan Bagus lost his island of solitude and wants to get it back. The island was about two hundred miles northeast of Samoa. It had a mountain, beaches, a rain forest, and a volcano. And now it's gone. Poof! Vanished without a trace.
Brilliant and boyishly charming Emerson Knight likes nothing better than solving an unsolvable, improbable mystery. And finding a missing island is better than Christmas morning in the Knight household. When clues lead to a dark and sinister secret that is being guarded by the National Park Service, Emerson will need to assemble a crack team for help. Since a crack team isn't available, he enlists Riley Moon and his cousin Vernon. Riley Moon has a Harvard business degree and can shoot the eyes out of a grasshopper at fifty feet, but she can't figure out how to escape the vortex of Emerson Knight's odd life. Vernon has been Emerson's loyal and enthusiastic partner in crime since childhood. He now lives in an RV behind Emerson's house.
Together, this ragtag, mismatched trio will embark on a worldwide investigation that will expose a conspiracy one hundred years in the making.
Editorial Reviews
"The unforgettable Emerson Knight and Riley Moon return for a nonstop adventure in this entertaining audiobook. Lorelei King narrates their incredible journey across the country as they join forces with a mismatched set of characters, including a Buddhist monk and Emerson's playboy cousin, Vernon, to find an island that has mysteriously disappeared. King effectively portrays the mix of intelligence, quirkiness, and bravery that is found in Evanovich's best characters. Though listeners may be distracted at times by the heavy doses of science and history woven into the plot, the story keeps one listening as the quirky team takes on power-hungry officials, a rogue group of soldiers for hire, and even a few grizzly bears in order to save the world." —AudioFile
Details
Available Formats :
CD, Library CD
Category:
Fiction/Thrillers/Suspense
Audience:
Adult
Language:
English
To listen to this title you will need our latest app
Due to publishing rights this title requires DRM and can only be listened to in the Blackstone Library Beta app
DRM (Digital Rights Management) is a copyright protection for digital media. While much of Blackstone Library Beta's content is DRM free, and allows for usage across platforms, select products on Blackstone Library Beta are required by publishers to have DRM protected files. These products will be playable exclusively on the BlackstoneLibrary.com apps, available for iOS and Android devices.
To listen to this title you will need our latest app