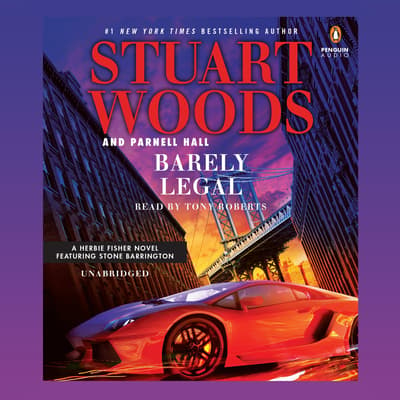 Format:

Library CD

(In Stock)
Category:
Fiction/Action & Adventure
Audience:
Adult
Language:
English
Summary
In the newest nonstop adventure from #1 New York Times-bestselling author Stuart Woods, the protégé becomes the heroas Herbie Fisher gets caught in a web of deceit, corruption, and greed.

Under the tutelage of Stone Barrington, Herbie Fisher has transformed from a bumbling sad sack into the youngest partner at the white-shoe law firm Woodman & Weld, and a man whose company is in high demand both because of his professional acumen and his savoir faire. But even his newly won composure and finely honed skills can't prepare him for the strange escapade he's unwittingly pulled into, and which--unbeknownst to him--has put him at the center of a bull's-eye. In the city that never sleeps there are always devious schemes afoot, and Herbie will have to be quick on his feet to stay one step ahead of his enemies...and they're closing in.
Editorial Reviews
Woods certainly knows how to keep the pages turning. —Booklist
"Since 1981, readers have not been able to get their fill of Stuart Woods' New York Times bestselling novels of suspense. —Orlando Sentinel
Woods's Stone Barrington is a guilty pleasure...he's also an addiction that's harder to kick than heroin. —Contra Costa Times (California)
"Mr. Woods, like his characters, has an appealing way of making things nice and clear. —The New York Times
A world-class mystery writer...I try to put Woods's books down and I can't. —Houston Chronicle 
Herbie manages to stumble his way to the exciting, satisfying climax. The courtroom scenes are convincing, and a host of inept crooks will resonate with fans of Donald Westlake's caper novels. —Publishers WeeklyMore Praise for Stuart Woods
Stuart Woods is a no-nonsense, slam-bang storyteller. —Chicago Tribune
"Woods and Hall have crafted a fast-moving tale with a light touch....Crime fiction doesn't get much more entertaining than this. —Booklist (starred review)
Details
Available Formats :
CD, Library CD
Category:
Fiction/Action & Adventure
Audience:
Adult
Language:
English
To listen to this title you will need our latest app
Due to publishing rights this title requires DRM and can only be listened to in the Blackstone Library Beta app
DRM (Digital Rights Management) is a copyright protection for digital media. While much of Blackstone Library Beta's content is DRM free, and allows for usage across platforms, select products on Blackstone Library Beta are required by publishers to have DRM protected files. These products will be playable exclusively on the BlackstoneLibrary.com apps, available for iOS and Android devices.
To listen to this title you will need our latest app