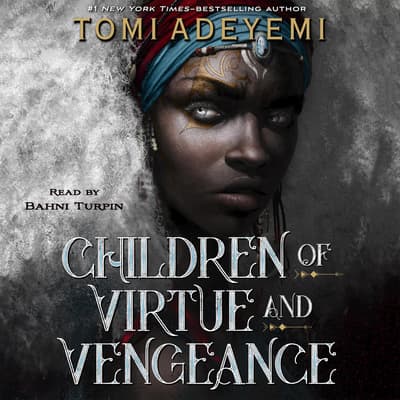 Format:

Library CD

(In Stock)
Runtime:
13.46 Hours
Category:
Fiction/Fantasy
Audience:
Young Adult (12–17)
Language:
English
Summary
Among longlisted titles for Amazon.com Best Books of the Year, 2019
*The spectacular sequel to Audie Award Audiobook of the Year Children of Blood and Bone*

"Bahni Turpin's breathtaking narration of this exhilarating novel will keep listeners rooted to their seats, listening intently....an audiobook not to be missed." — AudioFile Magazine on Children of Blood and Bone
After battling the impossible, Zélie and Amari have finally succeeded in bringing magic back to the land of Orïsha. But the ritual was more powerful than they could've imagined, reigniting the powers of not only the maji, but of nobles with magic ancestry, too.
Now, Zélie struggles to unite the maji in an Orïsha where the enemy is just as powerful as they are. But when the monarchy and military unite to keep control of Orïsha, Zélie must fight to secure Amari's right to the throne and protect the new maji from the monarchy's wrath.
With civil war looming on the horizon, Zélie finds herself at a breaking point: she must discover a way to bring the kingdom together or watch as Orïsha tears itself apart.
Children of Virtue and Vengeance is the stunning sequel to Tomi Adeyemi's New York Times-bestselling debut Children of Blood and Bone, the first audiobook in the Legacy of Orïsha trilogy.
Praise for Children of Blood and Bone:

"[Narrator Bahni Turpin] excels at customizing her voice to capture the unique personalities of each character.... This excellent, refreshing performance of Adeyemi's exciting debut is recommended for all collections where fantasy is popular." -Booklist
"Poses thought-provoking questions about race, class and authority that hold up a warning mirror to our sharply divided society." –The New York Times

"Meet Tomi Adeyemi—the new J.K. Rowling. (Yep, she's that good)." —Entertainment Weekly
Editorial Reviews
"The next big thing in literature and film." —Ebony, praise for the series
"A phenomenon." —Entertainment Weekly, praise for the series
Details
Available Formats :
CD, Library CD
Category:
Fiction/Fantasy
Runtime:
13.46
Audience:
Young Adult (12–17)
Language:
English
To listen to this title you will need our latest app
Due to publishing rights this title requires DRM and can only be listened to in the Blackstone Library Beta app
DRM (Digital Rights Management) is a copyright protection for digital media. While much of Blackstone Library Beta's content is DRM free, and allows for usage across platforms, select products on Blackstone Library Beta are required by publishers to have DRM protected files. These products will be playable exclusively on the BlackstoneLibrary.com apps, available for iOS and Android devices.
To listen to this title you will need our latest app