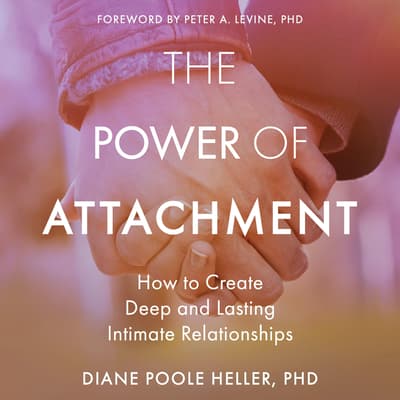 Format:

Library CD

(In Stock)
Available on 02/25/2020

ISBN: 9781684571444

Available on 02/25/2020

ISBN: 9781684571444
Category:
Nonfiction/Psychology
Audience:
Adult
Language:
English
Summary
From our earliest years, we develop an attachment style that follows us through life, replaying in our daily emotional landscape, our relationships, and how we feel about ourselves. And in the wake of a traumatic event—such as a car accident, severe illness, loss of a loved one, or experience of abuse—that attachment style can deeply influence what happens next.

In The Power of Attachment, Dr. Diane Poole Heller, a pioneer in attachment theory and trauma resolution, shows how overwhelming experiences can disrupt our most important connections—with the parts of ourselves within, with the physical world around us, and with others.

The good news is that we can restore and reconnect at all levels, regardless of our past.

Here, you'll learn key insights and practices to help you restore the broken connections caused by trauma; get embodied and grounded in your body; integrate the parts of yourself that feel wounded and fragmented; emerge from grief, fear, and powerlessness to regain strength, joy, and resiliency; and reclaim access to your inner resources and spiritual nature.
Editorial Reviews
"Heller fearlessly and compassionately explores our innate capacities for truly enriching relationships and the tragedies and terrors that can derail them." —Linda Graham, MFT, author of Resilience
Details
Available Formats :
CD, Library CD
Category:
Nonfiction/Psychology
Audience:
Adult
Language:
English
To listen to this title you will need our latest app
Due to publishing rights this title requires DRM and can only be listened to in the Blackstone Library Beta app
DRM (Digital Rights Management) is a copyright protection for digital media. While much of Blackstone Library Beta's content is DRM free, and allows for usage across platforms, select products on Blackstone Library Beta are required by publishers to have DRM protected files. These products will be playable exclusively on the BlackstoneLibrary.com apps, available for iOS and Android devices.
To listen to this title you will need our latest app