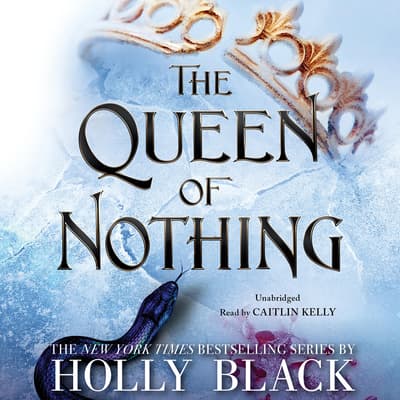 Format:

Library CD

(In Stock)
Available on 11/19/2019

ISBN: 9781549150180

Available on 11/19/2019

ISBN: 9781549128264
Runtime:
9.69 Hours
Category:
Fiction/Action & Adventure
Audience:
Young Adult (12–17)
Language:
English
Summary
An Entertainment Weekly Pick of the 40 Biggest Titles of the Season
An Amazon Editor's Top Pick of Most Anticipated Science Fiction and Fantasy Novels of Fall
A BuzzFeed Books Pick of Must-Read YA Novels Out This Fall
A Bustle Pick for Best Books of the Month
An Epic Reads Pick of the Month's Best Books
He will be the destruction of the crown and the ruination of the throne
Power is much easier to acquire than it is to hold onto. Jude learned this lesson when she released her control over the wicked king, Cardan, in exchange for immeasurable power.
Now as the exiled mortal Queen of Faerie, Jude is powerless and left reeling from Cardan's betrayal. She bides her time determined to reclaim everything he took from her. Opportunity arrives in the form of her deceptive twin sister, Taryn, whose mortal life is in peril.
Jude must risk venturing back into the treacherous Faerie Court, and confront her lingering feelings for Cardan, if she wishes to save her sister. But Elfhame is not as she left it. War is brewing. As Jude slips deep within enemy lines she becomes ensnared in the conflict's bloody politics.
And, when a dormant yet powerful curse is unleashed, panic spreads throughout the land, forcing her to choose between her ambition and her humanity…
From the #1 New York Times bestselling author Holly Black, comes the highly anticipated and jaw-dropping finale to The Folk of the Air trilogy.
Editorial Reviews
"Whether you came for the lore or the love, perfection." —Kirkus Reviews (starred review)
"Black sends Jude Duarte…into her most fraught mission yet…Jude was never one to shy away from a challenge, and she has scores to settle, debts to pay, and a crown to claim in Faerie. She may be down, but Jude's not out; she remains a wily political thinker until the bitter end." —Booklist (starred review)
Details
Available Formats :
CD, Library CD
Category:
Fiction/Action & Adventure
Runtime:
9.69
Audience:
Young Adult (12–17)
Language:
English
To listen to this title you will need our latest app
Due to publishing rights this title requires DRM and can only be listened to in the Blackstone Library Beta app
DRM (Digital Rights Management) is a copyright protection for digital media. While much of Blackstone Library Beta's content is DRM free, and allows for usage across platforms, select products on Blackstone Library Beta are required by publishers to have DRM protected files. These products will be playable exclusively on the BlackstoneLibrary.com apps, available for iOS and Android devices.
To listen to this title you will need our latest app