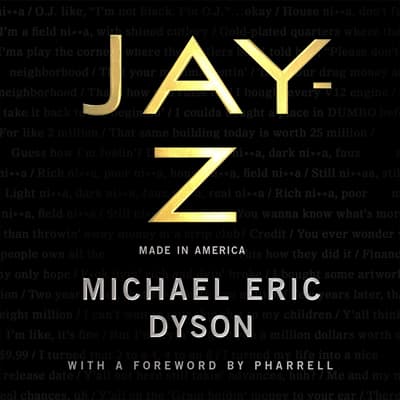 Format:

Library CD

(In Stock)
Available on 11/26/2019

ISBN: 9781250750228

Available on 11/26/2019

ISBN: 9781250750228
Runtime:
5.60 Hours
Category:
Nonfiction/Music
Audience:
Adult
Language:
English
Summary
This program is read by the author, and includes an introduction written by Pharrell, and read by Nick Cannon.

"Dyson's incisive analysis of JAY-Z's brilliance not only offers a brief history of hip-hop's critical place in American culture, but also hints at how we can best move forward." —Questlove
JAY-Z: Made in America is the fruit of Michael Eric Dyson's decade of teaching the work of one of the greatest poets this nation has produced, as gifted a wordsmith as Walt Whitman, Robert Frost and Rita Dove. But as a rapper, he's sometimes not given the credit he deserves for just how great an artist he's been for so long.
This audiobook wrestles with the biggest themes of JAY-Z's career, including hustling, and it recognizes the way that he's always weaved politics into his music, making important statements about race, criminal justice, black wealth and social injustice. As he enters his fifties, and to mark his thirty years as a recording artist, this is the perfect time to take a look at JAY-Z's career and his role in making this nation what it is today. In many ways, this is JAY-Z's America as much as it's Pelosi's America, or Trump's America, or Martin Luther King's America. JAY-Z has given this country a language to think with and words to live by.
Editorial Reviews
Jay-Z is one of the most remarkable figures of our time. I identify with him as a person who started poor but who rose high to conquer our realms on our own terms. This brilliant work probes every dimension of this iconic American original.
—
Tyler Perry"Michael Eric Dyson is the perfect thinker and writer to grapple with Jay-Z's artistic and political meaning. This is a fascinating and fulfilling book that eloquently engages one of the most profound and influential artists of our time.
Jay-Z's music has helped to shape a generation, and his rise from hustler to billionaire is an inspiration to millions. Michael Eric Dyson, himself a gifted writer and inspiring thinker who has risen from the bottom too, offers us a bracing, brilliant look at an iconic American. This book is eloquent and profound, and will help all of us understand why Jay-Z is in a class by himself.
—
Tamron Hall
As a proud standard bearer of hip hop's golden age, I greatly admire Jay-Z's lyrical talent, and just as important, his business acumen. This brilliant book not only explains Jay's magnificent artistry and career, but it sheds light on the broader American culture as well.
—
Queen Latifah
My Brooklyn Homeboy JAY-Z is one of the most prolific and gifted rappers of all time. My man Michael Eric Dyson is uniquely qualified to interpret JAY-Z's art and cultural meaning, and this dope book is all the proof we need.
—
Spike Lee
Michael Eric Dyson, a preeminent public intellectual, has covered the waterfront of black cultural criticism — from politics to pop culture, from race to religion. With
JAY-Z: Made in America
, he returns to his roots and offers us a poignant portrait of one of hip hop's most intriguing figures, a brilliant self-made man who, if he didn't exist, you'd have to invent. This tour de force takes full measure of an icon who is an American original like no other!
—
Henry-Louis Gates
If you want the definitive treatment of a man who took it from Marcy Projects to the White House with wit, wisdom, and talent, and changed hip hop along the way, look no further than this insightful and moving book.
—
Common
"[Dyson] makes his case that as a truth-telling racial unifier, political influence, and 'vocal evangelist for developing generational wealth in black communities,' Jay-Z represents a symbol of 'overcoming' for hip-hop culture and American society. —Booklist
Details
Available Formats :
CD, Library CD
Category:
Nonfiction/Music
Runtime:
5.60
Audience:
Adult
Language:
English
To listen to this title you will need our latest app
Due to publishing rights this title requires DRM and can only be listened to in the Blackstone Library Beta app
DRM (Digital Rights Management) is a copyright protection for digital media. While much of Blackstone Library Beta's content is DRM free, and allows for usage across platforms, select products on Blackstone Library Beta are required by publishers to have DRM protected files. These products will be playable exclusively on the BlackstoneLibrary.com apps, available for iOS and Android devices.
To listen to this title you will need our latest app