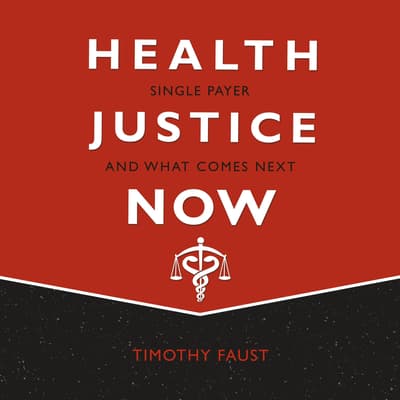 Format:

Library CD

(In Stock)
Category:
Nonfiction/Health & Fitness
Audience:
Adult
Language:
English
Summary
Single payer is the tool—health justice is the goal!

Single payer healthcare is not complicated: the government pays for all care for all people. It's cheaper than our current model, and most Americans (and their doctors) already want it. So what's the deal with our current healthcare system, and why don't we have something better?

In Health Justice Now, Timothy Faust explains what single payer is, why we don't yet have it, and how it can be won. He identifies the actors that have misled us for profit and political gain, dispels the myth that healthcare needs to be personally expensive, shows how we can smoothly transition to a new model, and reveals the slate of humane and progressive reforms that we can only achieve with single payer as the springboard.

In this impassioned playbook, Faust inspires us to believe in a world where we could leave our job without losing healthcare for ourselves and our kids; where affordable housing is healthcare; and where social justice links arm-in-arm with health justice for us all.
Details
Available Formats :
CD, Library CD
Category:
Nonfiction/Health & Fitness
Audience:
Adult
Language:
English
To listen to this title you will need our latest app
Due to publishing rights this title requires DRM and can only be listened to in the Blackstone Library Beta app
DRM (Digital Rights Management) is a copyright protection for digital media. While much of Blackstone Library Beta's content is DRM free, and allows for usage across platforms, select products on Blackstone Library Beta are required by publishers to have DRM protected files. These products will be playable exclusively on the BlackstoneLibrary.com apps, available for iOS and Android devices.
To listen to this title you will need our latest app