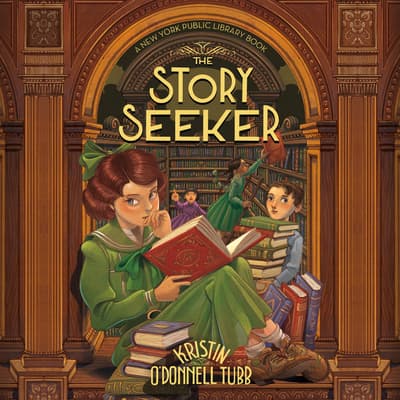 Format:

Library CD

(In Stock)
Available on 01/28/2020

ISBN: 9781250233189

Available on 01/28/2020

ISBN: 9781250233189
Runtime:
5.43 Hours
Category:
Fiction
Audience:
Children (8–12)
Language:
English
Summary
Inspired by the true story of a girl who lived in the library, Kristen O'Donnell Tubb's The Story Seeker continues The Story Collector series with a heartwarming middle grade mystery that captures the illustrious New York Public Library during the roaring 20's.
Twelve-year-old Viviani Fedeler, proud resident of the New York Public Library, has her sights set on becoming a star reporter. She's thrilled when Miss Hutch announces a story contest where the winner gets their essay printed in the New York Times!
But then Viviani gets her first-ever case of writer's block. As she struggles to find inspiration, the library is hit with a strange mystery involving overdue books, secret messages, and perhaps a spy lurking among the shelves...Will Viviani be able to crack the code and find the perfect story worthy of a byline?
Details
Available Formats :
CD, Library CD
Category:
Fiction
Runtime:
5.43
Audience:
Children (8–12)
Language:
English
To listen to this title you will need our latest app
Due to publishing rights this title requires DRM and can only be listened to in the Blackstone Library Beta app
DRM (Digital Rights Management) is a copyright protection for digital media. While much of Blackstone Library Beta's content is DRM free, and allows for usage across platforms, select products on Blackstone Library Beta are required by publishers to have DRM protected files. These products will be playable exclusively on the BlackstoneLibrary.com apps, available for iOS and Android devices.
To listen to this title you will need our latest app