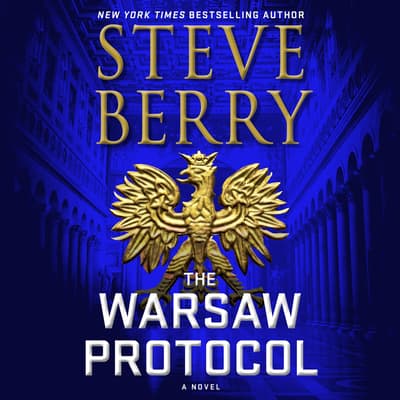 Format:

Library CD

(In Stock)
Available on 02/25/2020

ISBN: 9781250260857

Available on 02/25/2020

ISBN: 9781250260857
Runtime:
11.80 Hours
Category:
Fiction/Thrillers
Audience:
Adult
Language:
English
Summary
In this audiobook, Steve Berry and Macmillan Audio team up again to bring listeners an expanded, annotated Writer's Cut edition of The Warsaw Protocol. This Writer's Cut edition features fascinating behind-the-scenes commentary read by the author. Critically-acclaimed and award-winning narrator Scott Brick returns to his role as Cotton Malone — eponymous hero of Berry's iconic New York Times bestselling series — as the seven precious relics of the Arma Christi, the weapons of Christ, disappear one by one from sanctuaries across the world.
After former Justice Department agent Cotton Malone witnesses the theft of one of them, he learns from his old boss, Stephanie Nelle, that a private auction is about to be held where incriminating information on the president of Poland will be offered to the highest bidder—blackmail that both the United States and Russia want, but for vastly different reasons.
The price of admission to that auction is one of the relics, so Malone is first sent to a castle in Poland to steal the Holy Lance, a thousand-year-old spear sacred to not only Christians but to the Polish people, and then on to the auction itself. But nothing goes as planned and Malone is thrust into a bloody battle between three nations over information that, if exposed, could change the balance of power in Europe.
From the tranquil canals of Bruges, to the elegant rooms of Wawel Castle, to deep beneath the earth into an ancient Polish salt mine, Malone is caught in the middle of a deadly war—the outcome of which turns on a secret known as the Warsaw Protocol.
A Macmillan Audio production from Minotaur Books
Praise for Scott Brick as Cotton Malone:
"Brick is a masterful narrator, raising the tension in the action scenes while keeping the listener engaged in the slower historical segments." - AudioFile Magazine on The Malta Exchange

"Narrator Scott Brick's smooth voice flows with the twists and turns of Berry's political thriller...Secrets unravel, and tensions rise as Brick shifts vocal focus from the historical secret society to contemporary conspirators who include corrupt politicians and judges." — AudioFile Magazine on The Lost Order
Editorial Reviews
The Lost Order, Steve Berry's latest Cotton Malone adventure, combines the history of a secret society with a look inside the Smithsonian Institution —and it's terrific. Berry has written another gripping novel. —Jeff Ayers, Associated Press (USA Today, Washington Post, ABC News) on The Lost Order
Another terrific blend of history and thrills. —Library Journal "Best of 2017" on The Lost Order
[Berry] really is very good at the historical-conspiracy thriller; he's a skilled writer—much more so than Dan Brown, to whom he's often compared—and a more dexterous plotter than many of his contemporaries. Fans of the Malone series will give this one an enthusiastic thumbs-up. —Booklist on The Malta Exchange
The intrigue is intense . . . . Thriller fans will have their violence fix, but the real fun is in learning about the inner workings of the church, its history dating all the way back to Constantine, and the troubled past of Malta . . . . This one will appeal to Dan Brown fans and anyone else in the mood for a page-turning yarn. —Kirkus Reviews on The Malta Exchange
Berry has called Dan Brown and raised him, taking the lead in the big-money game of the religious-relic thriller. —Booklist
Berry once again shows there's no working author more skilled at combining thrilling adventure with engrossing historical detail. —Publishers Weekly
Details
Available Formats :
CD, Library CD
Category:
Fiction/Thrillers
Runtime:
11.80
Audience:
Adult
Language:
English
To listen to this title you will need our latest app
Due to publishing rights this title requires DRM and can only be listened to in the Blackstone Library Beta app
DRM (Digital Rights Management) is a copyright protection for digital media. While much of Blackstone Library Beta's content is DRM free, and allows for usage across platforms, select products on Blackstone Library Beta are required by publishers to have DRM protected files. These products will be playable exclusively on the BlackstoneLibrary.com apps, available for iOS and Android devices.
To listen to this title you will need our latest app