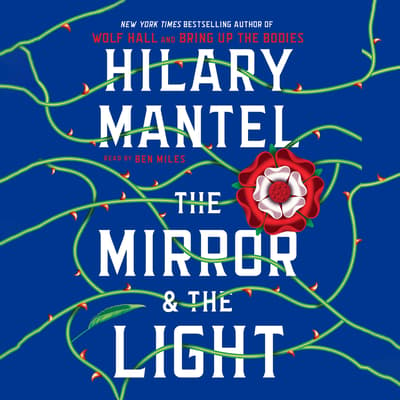 Format:

Library CD

(In Stock)
Category:
Fiction/Literary
Audience:
Adult
Language:
English
Summary
#1 New York Times bestseller
A New York Times Book Review Editor's Choice 
"The many listeners enthralled by the earlier two volumes in Hilary Mantel's Wolf Hall trilogy will find all their expectations met in this final installment... Here is a narrative achievement of the highest order." — AudioFile Magazine, Earphones Award winner
This program is read by Ben Miles, who played Thomas Cromwell in the Royal Shakespeare Company adaptation of Wolf Hall and Bring Up the Bodies

*This program includes a bonus conversation between Ben Miles and Hilary Mantel*

"If you cannot speak truth at a beheading, when can you speak it?"
With The Mirror & the Light, Hilary Mantel brings to a triumphant close the trilogy she began with her peerless, Booker Prize-winning novels, Wolf Hall and Bring Up the Bodies. She traces the final years of Thomas Cromwell, the boy from nowhere who climbs to the heights of power, offering a defining portrait of predator and prey, of a ferocious contest between present and past, between royal will and a common man's vision: of a modern nation making itself through conflict, passion and courage.
The story begins in May 1536: Anne Boleyn is dead, decapitated in the space of a heartbeat by a hired French executioner. As her remains are bundled into oblivion, Cromwell breakfasts with the victors. The blacksmith's son from Putney emerges from the spring's bloodbath to continue his climb to power and wealth, while his formidable master, Henry VIII, settles to short-lived happiness with his third queen, Jane Seymour.
Cromwell, a man with only his wits to rely on, has no great family to back him, no private army. Despite rebellion at home, traitors plotting abroad and the threat of invasion testing Henry's regime to the breaking point, Cromwell's robust imagination sees a new country in the mirror of the future. All of England lies at his feet, ripe for innovation and religious reform. But as fortune's wheel turns, Cromwell's enemies are gathering in the shadows. The inevitable question remains: how long can anyone survive under Henry's cruel and capricious gaze?
Eagerly awaited and eight years in the making, The Mirror & the Light completes Cromwell's journey from self-made man to one of the most feared, influential figures of his time. Portrayed by Mantel with pathos and terrific energy, Cromwell is as complex as he is unforgettable: a politician and a fixer, a husband and a father, a man who both defied and defined his age.
A Macmillan Audio production from Henry Holt and Company
Editorial Reviews
"This is rich, full-bodied fiction. Indeed, it might well be the best of the trilogy simply because there is more of it, a treasure on every page." —The Times (London)
"Mantel has wonderfully conjured the mentality, materiality and channels of power in a vanished age." —Wall Street Journal
"A richly hued mural of meticulous research, enthralling characters, and expressionistic language. She is our literary Michelangelo…Teeming with pageantry, intrigue, sex, and salvation, The Mirror & the Light reflects the looming tensions of every era, between those who hoard power and those who crave it." —O, The Oprah Magazine
"Every page is rich with insight, the soul-deep characterization and cutting observational skill that make Mantel's trilogy such a singular accomplishment." —USA Today
"A masterpiece…A novel of epic proportions every bit as thrilling, propulsive, darkly comic and stupendously intelligent as its predecessors…The trilogy is complete and it is magnificent." —The Guardian (London)
"The finest works of historical fiction in contemporary literature." —Washington Post, praise for the series
Details
Available Formats :
CD, Library CD
Category:
Fiction/Literary
Audience:
Adult
Language:
English
To listen to this title you will need our latest app
Due to publishing rights this title requires DRM and can only be listened to in the Blackstone Library Beta app
DRM (Digital Rights Management) is a copyright protection for digital media. While much of Blackstone Library Beta's content is DRM free, and allows for usage across platforms, select products on Blackstone Library Beta are required by publishers to have DRM protected files. These products will be playable exclusively on the BlackstoneLibrary.com apps, available for iOS and Android devices.
To listen to this title you will need our latest app