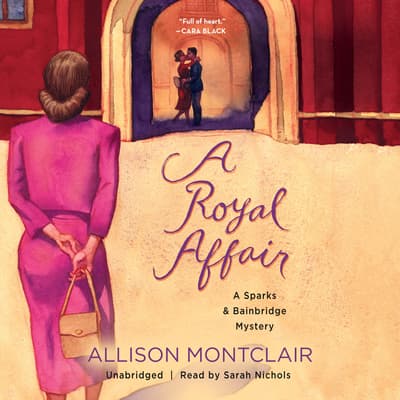 Format:

Library CD

(In Stock)
Available on 10/27/2020

ISBN: 9781982636579

Available on 10/27/2020

ISBN: 9781982636562

Available on 10/27/2020

ISBN: 9781982636586
Category:
Fiction/Mystery & Detective
Audience:
Adult
Language:
English
Summary
More goes wrong than could be imagined when Iris Sparks and Gwendolyn Bainbridge of the Right Sort Marriage Bureau are unexpectedly engaged to dig into the past of a suitor of a royal princess.
In London 1946, the Right Sort Marriage Bureau is just beginning to take off, and the proprietors, Miss Iris Sparks and Mrs. Gwendolyn Bainbridge, are in need of a bigger office and a secretary to handle the growing demand. Unfortunately, they don't yet have the necessary means. So when a woman arrives—a cousin of Gwen's—with an interesting and quite remunerative proposition, they two of them are all ears.

The cousin, one Lady Matheson, works for the Queen in "some capacity" and is in need of some discreet investigation. It seems that the Princess Elizabeth has developed feelings for a dashing Greek prince and a blackmail note has arrived, alluding to some potentially damaging information about said prince. Wanting to keep this out of the palace gossip circles, but also needing to find out what skeletons might lurk in the prince's closet, the palace has quietly turned to Gwen and Iris. Without causing a stir, the two of them must now find out what secrets lurk in the prince's past, before his engagement to the future Queen of England is announced. And there's more at stake than the future of the Empire—there is their potential new office that lies in the balance.
Editorial Reviews
"It's refreshing to see believable female friends in a historical mystery…Fans of period mysteries by authors such as Ashley Weaver and Deanna Raybourn will appreciate this gutsy duo." —Library Journal
"Stellar…Montclair successfully combines the insightful characterizations of Jacqueline Winspear with the witty banter of Hammett's Nick and Nora Charles. Fans of the British royal family will have fun." —Publishers Weekly
"A delightful immersion in the period and personalities, with that touch of depth that transforms a good series to a great one." —Laurie R. King, New York Times bestselling author, on The Right Sort of Man
"Stellar…Both leads are complex, well-developed characters, whose penchant for humorous byplay never comes at the expense of the plot." —Publishers Weekly (starred review) on The Right Sort of Man
Details
Available Formats :
CD, Library CD, MP3 CD
Category:
Fiction/Mystery & Detective
Audience:
Adult
Language:
English
To listen to this title you will need our latest app
Due to publishing rights this title requires DRM and can only be listened to in the Blackstone Library Beta app
DRM (Digital Rights Management) is a copyright protection for digital media. While much of Blackstone Library Beta's content is DRM free, and allows for usage across platforms, select products on Blackstone Library Beta are required by publishers to have DRM protected files. These products will be playable exclusively on the BlackstoneLibrary.com apps, available for iOS and Android devices.
To listen to this title you will need our latest app