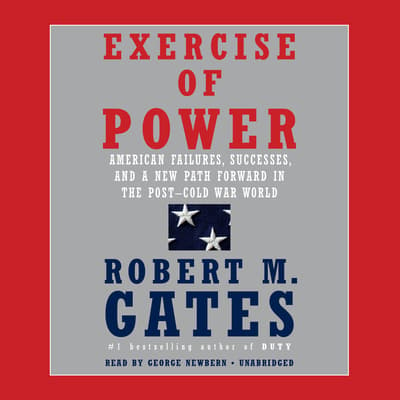 Exercise of Power: American Failures, Successes, and a New Path Forward in the Post-Cold War World
By Robert M. Gates
Read by  George Newbern
Unabridged
Format:

Library CD

(In Stock)
Runtime:
16.97 Hours
Category:
Nonfiction/Political Science
Audience:
Adult
Language:
English
Summary
A New York Times Book Review Editor's Choice of the Week
From the former secretary of defense and author of the acclaimed #1 best-selling memoir, Duty, a candid, sweeping examination of power in all its manifestations, and how it has been exercised, for good and bad, by American presidents in the post-Cold War world.
Since the end of the Cold War, the global perception of the United States has progressively morphed from dominant international leader to disorganized entity, seemingly unwilling to accept the mantle of leadership or unable to govern itself effectively. Robert Gates argues that this transformation is the result of the failure of political leaders to understand the complexity of American power, its expansiveness, and its limitations. He makes clear that the successful exercise of power is not limited to the use of military might or the ability to coerce or demand submission, but must encompass as well diplomacy, economics, strategic communications, development assistance, intelligence, technology, ideology, and cyber. By analyzing specific challenges faced by the American government in the post-Cold War period--Iran, Iraq, Afghanistan, North Korea, Syria, Libya, Russia, China, and others--Gates deconstructs the ways in which leaders have used the instruments of power available to them. With forthright judgments of the performance of past presidents and their senior-most advisers, firsthand knowledge, and insider stories, Gates argues that U.S. national security in the future will require learning, and abiding by, the lessons of the past, and re-creating those capabilities that the misuse of power has cost the nation.
Editorial Reviews
Exercise of Power
is a timely, essential guide for all those committed to sustaining America's experiment in democracy. It should also be required reading for anyone engaged in crafting, influencing and (especially) executing American foreign policy. It is truly a page-turner.
—
General Jim Mattis,#1 New York Times bestselling author
The mastery with which Robert Gates wrestles with the fundamental question of the purposes to which America's global power should be used reveals an astonishing combination of strengths — a narrative gift that captivates the reader from start to finish, an insightful mind, and a profound wisdom that comes from his own experience and wide-ranging historical knowledge. —Doris Kearns Goodwin, author of Leadership
In a time of global instability, perhaps our nation's most distinguished public servant, Robert M. Gates, has given us a compelling, thought-provoking, and and much-needed assessment of how we got here—and what must be done to restore and extend the best of American power.
—
Jon Meacham, #1 New York Times bestselling author
Details
Available Formats :
CD, Library CD
Category:
Nonfiction/Political Science
Runtime:
16.97
Audience:
Adult
Language:
English
To listen to this title you will need our latest app
Due to publishing rights this title requires DRM and can only be listened to in the Blackstone Library Beta app
DRM (Digital Rights Management) is a copyright protection for digital media. While much of Blackstone Library Beta's content is DRM free, and allows for usage across platforms, select products on Blackstone Library Beta are required by publishers to have DRM protected files. These products will be playable exclusively on the BlackstoneLibrary.com apps, available for iOS and Android devices.
To listen to this title you will need our latest app