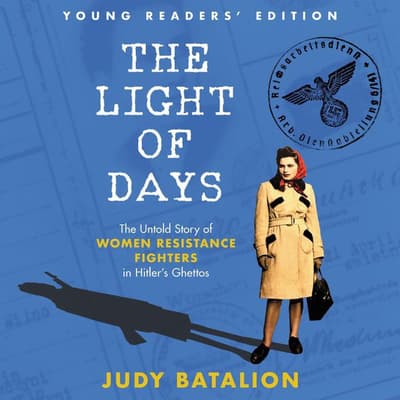 The Light of Days Young Readers' Edition: The Untold Story of Women Resistance Fighters in Hitler's Ghettos
Unabridged
Format:

Library CD

(In Stock)
Available on 04/06/2021

ISBN: 9781094167664

Available on 04/06/2021

ISBN: 9781094167657

Available on 04/06/2021

ISBN: 9781094167671
Audience:
Adult
Language:
English
Summary
This young readers' edition tells the remarkable story, largely forgotten until now, of the young Jewish women who became resistance fighters against the Nazis during World War II. It has already been optioned by Steven Spielberg for a major motion picture.
As their communities were being destroyed, groups of Jewish women and teenage girls across Poland began transforming Jewish youth groups into resistance factions. These "ghetto girls" helped build systems of underground bunkers, paid off the Gestapo, and bombed German train lines.
At the center of the book is eighteen-year-old Renia Kukielka, who traveled across her war-torn country as a weapons smuggler and messenger. Other women who joined the cause served as armed fighters, spies, and saboteurs, all risking their lives for their missions.
Never before chronicled in full, this is the incredible account of the strong Jewish women who fought back against the seemingly unstoppable Nazi regime. It follows the women through arrests, internment, and for a lucky few, into the late 20th century and beyond.
Details
Available Formats :
CD, Library CD, MP3 CD
Audience:
Adult
Language:
English
To listen to this title you will need our latest app
Due to publishing rights this title requires DRM and can only be listened to in the Blackstone Library Beta app
DRM (Digital Rights Management) is a copyright protection for digital media. While much of Blackstone Library Beta's content is DRM free, and allows for usage across platforms, select products on Blackstone Library Beta are required by publishers to have DRM protected files. These products will be playable exclusively on the BlackstoneLibrary.com apps, available for iOS and Android devices.
To listen to this title you will need our latest app