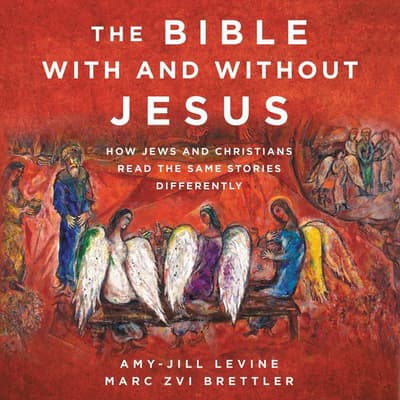 Format:

Library CD

(In Stock)
Available on 10/27/2020

ISBN: 9781799943891

Available on 10/27/2020

ISBN: 9781799943884

Available on 10/27/2020

ISBN: 9781799943907
Category:
Nonfiction/Religion
Audience:
Adult
Language:
English
Summary
The editors of The Jewish Annotated New Testament explore how Jews and Christians can learn from and understand each other better by exploring how they read many of the same Bible stories through different lens. Esteemed Bible scholars Amy-Jill Levine and Marc Brettler take readers on a guided tour of the most popular Hebrew Bible passages referenced in the New Testament to explore how Christians, Jews, and scholars read these ancient texts differently. Among the passages analyzed are the creation story, the role of Adam and Eve, the suffering servant passages in Isaiah, the sign of "Jonah" Jesus refers to, and the words Jesus quotes from Psalm 22 as he is dying on the cross, "My God, my God, why have you forsaken me?"
Comparing Jewish, Christian, and academic interpretations of each ancient narrative, Levine and Brettler offer a deeper understanding of these contrasting views, and illuminate the historical and literary significance of the Bible and its place in our culture. Revealing not only what Jews and Christians can learn from each other, The Bible With and Without Jesus also shows how to appreciate the distinctive perspectives of each. By understanding the depth and variety by which these passages have been understood, we not only enhance our knowledge of each other, but also see more clearly the beauty and power of Scripture itself.
Details
Available Formats :
CD, Library CD, MP3 CD
Category:
Nonfiction/Religion
Audience:
Adult
Language:
English
To listen to this title you will need our latest app
Due to publishing rights this title requires DRM and can only be listened to in the Blackstone Library Beta app
DRM (Digital Rights Management) is a copyright protection for digital media. While much of Blackstone Library Beta's content is DRM free, and allows for usage across platforms, select products on Blackstone Library Beta are required by publishers to have DRM protected files. These products will be playable exclusively on the BlackstoneLibrary.com apps, available for iOS and Android devices.
To listen to this title you will need our latest app