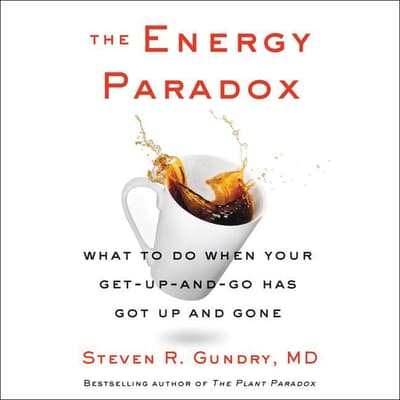 Format :

Library CD

(In Stock)
Available on 03/16/2021

ISBN: 9781799948728

Available on 03/16/2021

ISBN: 9781799948711

Available on 03/16/2021

ISBN: 9781799948735
Category:
Nonfiction/Health & Fitness
Audience:
Adult
Language:
English
Summary
The author of the bestselling Plant Paradox series takes a fresh look at one of the top health issues plaguing Americans—fatigue—and offers a revolutionary plan for boosting energy and revitalizing mental and physical stamina. In his bestselling books, The Plant Paradox and The Longevity Paradox, Dr. Steven R. Gundry offered game-changing perspectives on our wellbeing. In The Energy Paradox, Dr. Gundry expands upon his previous discussions of gut, microbiome, and mitochondrial health, linking immune malfunction to the mental and physical symptoms of fatigue—including exhaustion, brain fog, depression, anxiety, and low metabolism.
As Dr. Gundry explains, feeling tired, moody, and zapped of energy is not normal, no matter your workload or age. Fatigue is an SOS flare from the body, one that is intended to alert us that something is wrong. In his clinical work, Dr. Gundry has found that his patients who complain of feeling sick and tired all the time almost always have something in common: the inflammation markers of a leaky gut.
In The Energy Paradox, Dr. Gundry will offer readers the information and tools necessary to quiet the autoimmune battle raging within—a battle that depletes precious energy reserves, leaving you drained and prone to mood disorders and weight gain. With new guidelines on how to increase mitochondrial energy production and nourish the microbiome; 30 new Plant Paradox-approved recipes; and lists of energy-boosting foods to consume and energy-depleting foods to avoid, The Energy Paradox will help readers take back their lives, giving them the energy they need to feel, look, and be their best.
Editorial Reviews
"Essential reading for the many people who are overworked, burned out, running on empty, and feeling sick and tired all the time. As Dr. Gundry shows, fatigue is not your fate!"
—
Arianna Huffington, #1 New York Times bestselling author
"Practical, applicable advice on how to conquer fatigue and maximize energy."
—
Kirkus Reviews
Details
Available Formats :
CD, Library CD, MP3 CD
Category:
Nonfiction/Health & Fitness
Audience:
Adult
Language:
English
To listen to this title you will need our latest app
Due to publishing rights this title requires DRM and can only be listened to in the Blackstone Library app
DRM (Digital Rights Management) is a copyright protection for digital media. While much of Blackstone Library's content is DRM free, and allows for usage across platforms, select products on Blackstone Library are required by publishers to have DRM protected files. These products will be playable exclusively on the BlackstoneLibrary.com apps, available for iOS and Android devices.
To listen to this title you will need our latest app