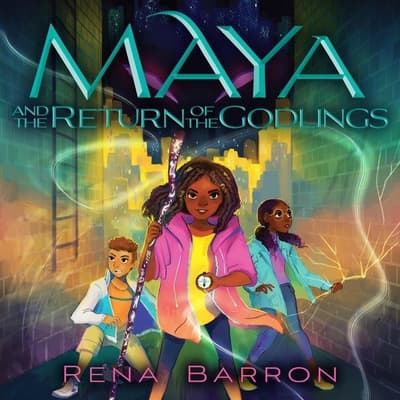 Format :

Library CD

(In Stock)
Available on 09/21/2021

ISBN: 9780358449805

Available on 09/21/2021

ISBN: 9781799968849

Available on 09/21/2021

ISBN: 9781799968856
Category:
Fiction/Fantasy
Audience:
Children (8–12)
Language:
English
Summary
In this highly anticipated sequel, Maya and the godlings must return to the sinister world of The Dark to retrieve the one thing keeping the veil between the worlds from crumbling: her father's soul. Perfect for fans of Tristan Strong Punches a Hole in the Sky and Willa of the Wood.

The threat from The Dark is far from over. Twelve-year-old Maya knows this. After crossing the veil between the two worlds, saving her father, and narrowly escaping the sinister clutches of the Lord of Shadows, tensions between the human world and The Dark are higher than ever. And even worse, Maya's orisha powers as a godling are out of control.

Now a guardian in training, Maya spends her days patching up veils with her father and cleaning up near-disasters like baby wormholes that her erratic powers create. But when Maya and her friends discover that something went terribly wrong during their journey to bring her father back to the human world, they are forced to return to The Dark and restore what they left behind, the one thing keeping the veil from falling: her father's soul.

The Lord of Shadows is mobilizing his forces for an all-out war against the human world. And this time, Maya and her friends will need all the help they can get. Even if that means teaming up with their greatest enemies, the darkbringers.
Details
Available Formats :
CD, Library CD, MP3 CD
Category:
Fiction/Fantasy
Audience:
Children (8–12)
Language:
English
To listen to this title you will need our latest app
Due to publishing rights this title requires DRM and can only be listened to in the Blackstone Library app
DRM (Digital Rights Management) is a copyright protection for digital media. While much of Blackstone Library's content is DRM free, and allows for usage across platforms, select products on Blackstone Library are required by publishers to have DRM protected files. These products will be playable exclusively on the BlackstoneLibrary.com apps, available for iOS and Android devices.
To listen to this title you will need our latest app