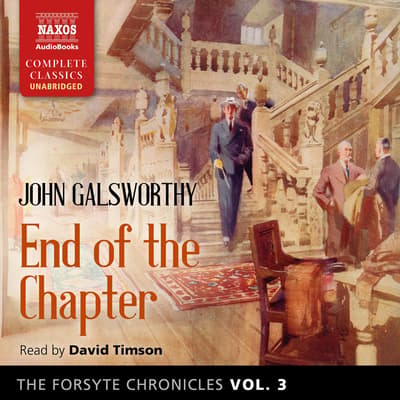 Format :

Library CD

(In Stock)
Available on 06/01/2021

ISBN: 9781665061612

Available on 06/01/2021

ISBN: 9781665061605

Available on 06/01/2021

ISBN: 9781665061629
Category:
Fiction/Classics
Audience:
Adult
Language:
English
Summary
John Galsworthy's magnificent trilogy of power and passion chronicles the wealthy Forsyte family. As the disintegrating values of the Victorian era progress to World War I and the political uncertainty of the 1930s, the family's material and emotional struggles are set within the dwindling status of the affluent middle-classes. Infused with warmth, compassion and engaging characters, the complete Chronicles are divided into three volumes, containing nine books and three interludes in total. Volume 3 of this gripping family saga, End of the Chapter, shifts to the Cherrells – cousins of the Forsytes by marriage. Young Dinny Cherrell in particular cherishes their ancestral home, Condaford Grange, which represents stability in a rapidly changing world. Through his depiction of the lives and loves of this family, Galsworthy throws a brilliant spotlight on the social and political upheavals of the 1930s. End of the Chapter contains Book 1: Maid in Waiting, Book 2: Flowering Wilderness and Book 3: Over the River.
Details
Available Formats :
CD, Library CD, MP3 CD
Category:
Fiction/Classics
Audience:
Adult
Language:
English
To listen to this title you will need our latest app
Due to publishing rights this title requires DRM and can only be listened to in the Blackstone Library app
DRM (Digital Rights Management) is a copyright protection for digital media. While much of Blackstone Library's content is DRM free, and allows for usage across platforms, select products on Blackstone Library are required by publishers to have DRM protected files. These products will be playable exclusively on the BlackstoneLibrary.com apps, available for iOS and Android devices.
To listen to this title you will need our latest app