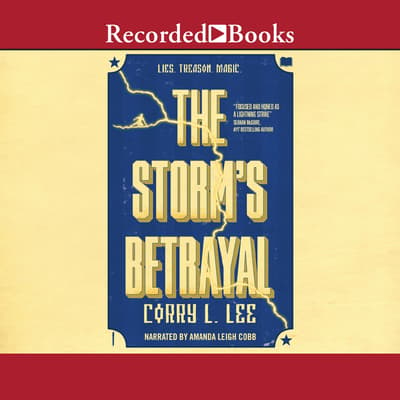 Format :

Library CD

(In Stock)
Available on 05/28/2021

ISBN: 9781980063353

Available on 05/28/2021

ISBN: 9781665051910
Category:
Fiction/Fantasy
Audience:
Young Adult (12–17)
Language:
English
Summary
The intense, dramatic sequel to 2019's break-out Russian-inspired epic Weave the Lightning. "A sweeping epic of romance, revolution, elegant strangeness, and elemental magic." – Jason Heller Lies. Magic. Treason. The great Stormhawk—Bourshkanya's paranoid, fascist leader—is seemingly unkillable, but for the rebellion to succeed, he must die. Celka Prochazka uses magic in ways no one believed possible. She could be the perfect resistance assassin—if she can avoid being discovered as a traitor. Gerrit Kladivo, the Stormhawk's son, is determined to end his father's tyrannical rule. But to get Celka close enough to his father, he must first prove unflinching loyalty to the regime. Filip Cizek swore his life to protect Gerrit and the regime. But with Gerrit's actions twisting him into a stranger, Filip must decide how deep his loyalty runs. Together, they will attempt the impossible—but the cost may be everything they hold dear.
Details
Available Formats :
Library CD, MP3 CD
Category:
Fiction/Fantasy
Audience:
Young Adult (12–17)
Language:
English
To listen to this title you will need our latest app
Due to publishing rights this title requires DRM and can only be listened to in the Blackstone Library app
DRM (Digital Rights Management) is a copyright protection for digital media. While much of Blackstone Library's content is DRM free, and allows for usage across platforms, select products on Blackstone Library are required by publishers to have DRM protected files. These products will be playable exclusively on the BlackstoneLibrary.com apps, available for iOS and Android devices.
To listen to this title you will need our latest app