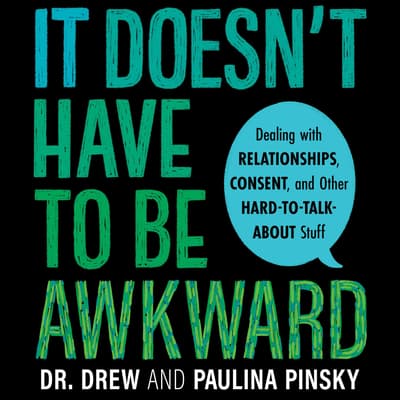 It Doesn't Have to Be Awkward: Dealing with Relationships, Consent, and Other Hard-to-Talk-About Stuff
By Dr. Drew Pinsky  and Paulina Pinsky
Unabridged
Format :

CD

(In Stock)
Available on 09/21/2021

ISBN: 9780358578697
Category:
Nonfiction
Audience:
Young Adult (12–17)
Language:
English
Summary
When it comes to sex, relationships, and consent, establishing boundaries and figuring out who you are and what you want is never simple—especially as a teenager. What's the line between a friendship and a romantic partner? How can you learn to trust your body's signals? And what if you're not quite sure what your sexuality is?
In this book, renowned celebrity M.D. Dr. Drew and his daughter Paulina Pinsky take on those awkward, and incredibly important questions teens today are asking themselves and parents wish they had a better grasp on. Filled with tangible and accessible resources, and featuring humorous and raw personal anecdotes, this is the perfect guide for teens, parents, and educators to go beyond "the talk" and dive into honest and meaningful conversations about sex, relationships, and consent.
Editorial Reviews
"Teens looking for real talk about real challenges will find this book offers a lot of encouragement."
—
Kirkus Reviews
Details
Available Formats :
CD
Category:
Nonfiction
Audience:
Young Adult (12–17)
Language:
English
To listen to this title you will need our latest app
Due to publishing rights this title requires DRM and can only be listened to in the Blackstone Library app
DRM (Digital Rights Management) is a copyright protection for digital media. While much of Blackstone Library's content is DRM free, and allows for usage across platforms, select products on Blackstone Library are required by publishers to have DRM protected files. These products will be playable exclusively on the BlackstoneLibrary.com apps, available for iOS and Android devices.
To listen to this title you will need our latest app