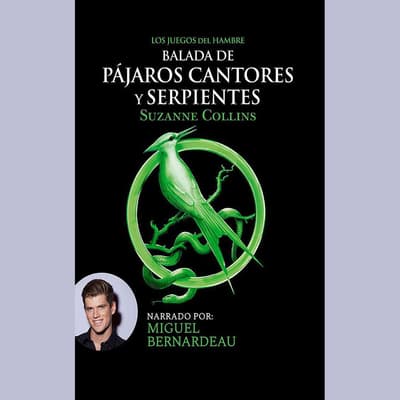 Format :

Library CD

(In Stock)
Category:
Fiction
Audience:
Young Adult (12–17)
Language:
Spanish
Summary
La ambición será su motor.
La rivalidad, su motivación.
Pero alcanzar el poder tiene un precio.
Es la mañana de la cosecha que dará comienzo a los décimos Juegos del Hambre. En el Capitolio, Coriolanus Snow, de dieciocho años, se prepara para una oportunidad única: alcanzar la gloria como mentor de los Juegos. La casa de los Snow, antes tan influyente, atraviesa tiempos difíciles, y su destino depende de que Coriolanus consiga superar a sus compañeros en ingenio, estrategia y encanto como mentor del tributo que le sea adjudicado.
Todo está en su contra. Lo han humillado al asignarle a la tributo del Distrito 12. Ahora, sus destinos están irremediablemente unidos...
Please note: This audiobook is in Castilian Spanish.
Details
Available Formats :
CD, Library CD
Category:
Fiction
Audience:
Young Adult (12–17)
Language:
Spanish
To listen to this title you will need our latest app
Due to publishing rights this title requires DRM and can only be listened to in the Blackstone Library app
DRM (Digital Rights Management) is a copyright protection for digital media. While much of Blackstone Library's content is DRM free, and allows for usage across platforms, select products on Blackstone Library are required by publishers to have DRM protected files. These products will be playable exclusively on the BlackstoneLibrary.com apps, available for iOS and Android devices.
To listen to this title you will need our latest app