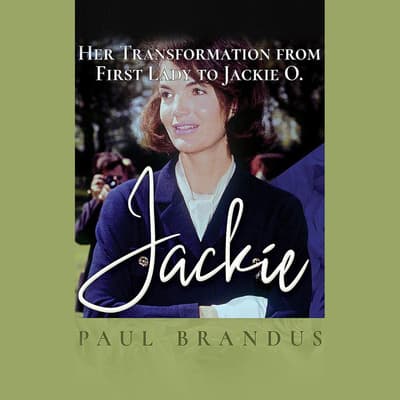 Format :

Library CD

(In Stock)
Category:
Nonfiction/Biography
Audience:
Adult
Language:
English
Summary
Everyone knows that Jacqueline Kennedy Onassis was married to two of the 20th century's most powerful men: John F. Kennedy and Aristotle Onassis. Lesser known are the five incredible years between those marriages, when she was on her own. Jackie tells that story - the story of a woman who was globally famous, and yet utterly enigmatic.
The world was shocked when Jacqueline Kennedy married Aristotle Onassis in 1968. It would not have been so surprising had the truth of their relationship - which dated back to the 1950s - been known. Jackie knew Ari almost as long as she had known John F. Kennedy - and saw qualities in him (besides money) that she found highly attractive.
The five years between her marriages to JFK and Onassis are often overlooked. But it was an incredible period of growth and change for Jackie. How did the world's most famous woman remain so enigmatic? What was she really like? This book reveals the real Jackie, the one that hid behind her trademark large sunglasses.
In this book, you'll learn about:
Jackie's lovers - and the one man she regretted not marrying
The secret, second burial of JFK
Her evolution from "political wife Jackie" into "nightclubbing, party girl Jackie"
Her own near-death in 1967
Her influence on pop art, fashion, and design
The missing pink pillbox hat - the crown jewel of the outfit she wore in Dallas
Details
Available Formats :
CD, Library CD
Category:
Nonfiction/Biography
Audience:
Adult
Language:
English
To listen to this title you will need our latest app
Due to publishing rights this title requires DRM and can only be listened to in the Blackstone Library app
DRM (Digital Rights Management) is a copyright protection for digital media. While much of Blackstone Library's content is DRM free, and allows for usage across platforms, select products on Blackstone Library are required by publishers to have DRM protected files. These products will be playable exclusively on the BlackstoneLibrary.com apps, available for iOS and Android devices.
To listen to this title you will need our latest app