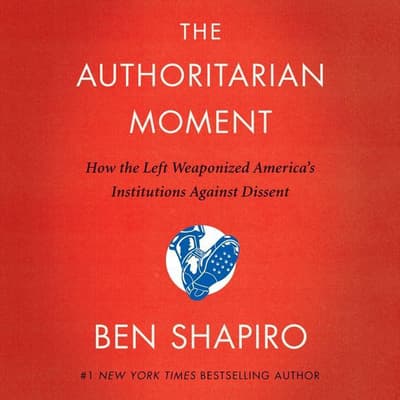 The Authoritarian Moment: How the Left Weaponized America's Institutions Against Dissent
By Ben Shapiro
Read by TBD
Unabridged
Format :

Library CD

(In Stock)
Available on 07/13/2021

ISBN: 9780063087132

Available on 07/13/2021

ISBN: 9780063087132
Category:
Nonfiction/Political Science
Audience:
Adult
Language:
English
Summary
#1 New York Times bestselling author Ben Shapiro lays out the seven most important decisions we'll ever make, and how to make them by acting accordance with virtue. Over the course of our lives we face pivotal decisions. But today, few feel they have the thoughtful guidance necessary to help them make good choices. We have become a values free, disconnected society in which anything goes, as long as we are "happy" to do as we please. But happiness and doing the right thing are not mutually exclusive, Ben Shapiro argues.
In Solve Your Own Damn Problems, he provides a framework for making decisions informed by traditional notions of virtue and wisdom. Shapiro pushes back against the widely held belief that diligence to duty impedes our ability to achieve happiness. In fact, he makes clear, it's only when we embrace duty that we find happiness. Success without happiness is hollow, Shapiro reminds us, and we cannot find happiness if we stop striving for virtue and honor. Right now, the West is facing a meaning crisis, and it's up to each of us to rediscover the traditional values which our institutions no longer teach.
Shapiro considers seven challenging scenarios and offers a clear path for how to evaluate and act for each. Instead of going through the motions of school and work, readers should use their mind and moral compass to think through possibilities and ultimately reach conclusions that will lead to happier, more enriched lives.
Solve Your Own Damn Problems reveals that good decision-making and a good life—finding personal satisfaction and meaning—rests on a foundation of responsibility and obligation. By making this central to our lives we can we can begin to address and abate the malaise that has created our meaningless, atomized culture.
Details
Available Formats :
CD, Library CD
Category:
Nonfiction/Political Science
Audience:
Adult
Language:
English
To listen to this title you will need our latest app
Due to publishing rights this title requires DRM and can only be listened to in the Blackstone Library app
DRM (Digital Rights Management) is a copyright protection for digital media. While much of Blackstone Library's content is DRM free, and allows for usage across platforms, select products on Blackstone Library are required by publishers to have DRM protected files. These products will be playable exclusively on the BlackstoneLibrary.com apps, available for iOS and Android devices.
To listen to this title you will need our latest app