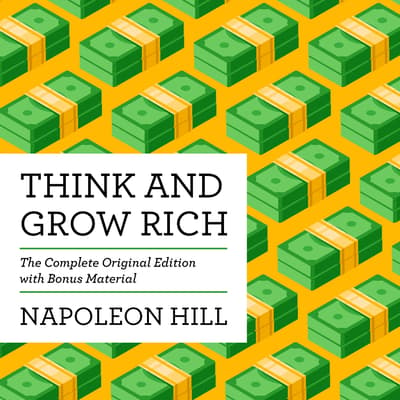 Think and Grow Rich: The Complete Original Edition (with Bonus Material)
By Napoleon Hill
Read by Tom Parks
Unabridged
Format :

Library CD

(In Stock)
Category:
Nonfiction/Business & Economics
Audience:
Adult
Language:
English
Summary
Napoleon Hill's life changing philosophy of success, originally published in 1937, has sold millions of copies and changed just as many lives. His simple, revolutionary "13 Steps to Riches" form a philosophy of empowerment that will allow you to seize the life you want and achieve the success you've dreamed of.

Think and Grow Rich has been credited with helping to inspire more people to become millionaires and billionaires than any other book in history. And now, in this new edition, it will bring the timeless message to the next generation. This unique edition features not only the recording of the original and complete 1937 text, but also includes two exciting pieces from Napoleon Hill—"Let Ambition Be Your Master" and "What I Learned from Analyzing Ten Thousand People."

Important, practical, and transformative, Think and Grow Rich's wisdom will empower today's listeners to create tomorrow's successes!
Details
Available Formats :
CD, Library CD, MP3 CD
Category:
Nonfiction/Business & Economics
Audience:
Adult
Language:
English
To listen to this title you will need our latest app
Due to publishing rights this title requires DRM and can only be listened to in the Blackstone Library app
DRM (Digital Rights Management) is a copyright protection for digital media. While much of Blackstone Library's content is DRM free, and allows for usage across platforms, select products on Blackstone Library are required by publishers to have DRM protected files. These products will be playable exclusively on the BlackstoneLibrary.com apps, available for iOS and Android devices.
To listen to this title you will need our latest app