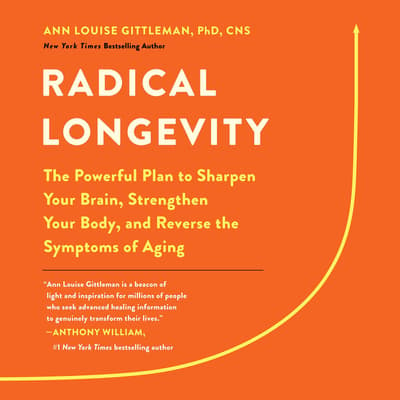 Radical Longevity: The Powerful Plan to Sharpen Your Brain, Strengthen Your Body, and Reverse the Symptoms of Aging
By Ann Louise Gittleman PhD, CNS
Unabridged
Format :

Library CD

(In Stock)
Category:
Nonfiction/Health & Fitness
Audience:
Adult
Language:
English
Summary
Welcome to a Radical new view of aging – one that defies conventional wisdom and redefines the aging process with resilience, vitality and grace. You'll discover the most advanced program that staves off the effects of aging, which includes how to release a lifetime of accumulated toxins and deficiencies—and how to correct and reverse their effects with targeted foods, critical lifestyle tweaks, peptides and signaling molecules for cellular regeneration.

With her trademark no-nonsense style, Ann Louise Gittleman champions a paradigm shift in which your biology is not your biography. By utilizing epigenetics to slow and reverse many of the most worrisome aging conditions, you can preserve your "youth span" and enhance your immunity, heart, brain, muscles, joints, skin, and hair. You can even revitalize your sex drive!

Based on decades of experience and research in breakthrough age- defying and restorative medicine, Radical Longevity will forever change what you think you know about aging. Inside you'll discover:
The most essential vitamins, minerals and hormones to reclaim youthful immunity
The transformative Radical Longevity Power Plan and 5 Day Radical Reset to soothe the gut and revitalize the liver
How to manipulate your metabolism
The Cinderella mineral to help prevent memory loss and reverse Alzheimer's
How to make your body produce up to fifty percent more "Youth Defying Stem Cells"
The #1 brain-aging hazard hiding in your home, and how to activate your best self-defense
The unexpected "forbidden" food that makes your skin, joints, eyes, arteries, and brain feel years younger and much more…
Radical Longevity
casts a big and bold new vision of aging that will give you freedom from accepting the limitations that growing older once meant. Look more youthful, feel more agile, and think more clearly as you enter the Radical new era of healthy aging!
Editorial Reviews
"Ann Louise Gittleman is a dynamic pioneer and leading authority in nutrition, health, and wellness."
—
Anthony William, #1 New York Times bestselling author
Details
Available Formats :
CD, Library CD
Category:
Nonfiction/Health & Fitness
Audience:
Adult
Language:
English
To listen to this title you will need our latest app
Due to publishing rights this title requires DRM and can only be listened to in the Blackstone Library app
DRM (Digital Rights Management) is a copyright protection for digital media. While much of Blackstone Library's content is DRM free, and allows for usage across platforms, select products on Blackstone Library are required by publishers to have DRM protected files. These products will be playable exclusively on the BlackstoneLibrary.com apps, available for iOS and Android devices.
To listen to this title you will need our latest app