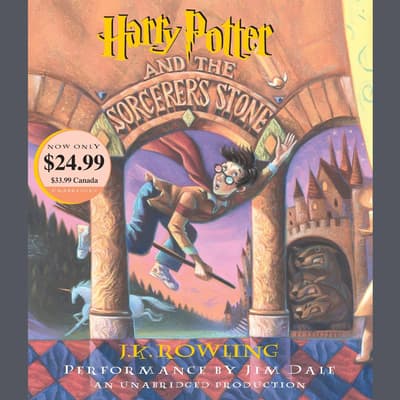 Format :

Library CD

(In Stock)
Runtime:
8.50 Hours
Category:
Fiction/Fantasy
Audience:
Children (8–12)
Language:
English
Summary
A #1 New York Times bestseller
Shortlisted for the 1998 Guardian Children's Fiction Prize
Winner of the 2001 Rebecca Caudill Young Readers' Book Award
A #1 Amazon.com bestseller in Teen & YA Family Fiction
Winner of an AudioFile Earphones Award
A Bookphonic Pick of Best Fiction Audiobooks
A New York Public Library Staff Pick of Favorite Books of the last 125 Years
Harry Potter has no idea how famous he is. That's because he's being raised by his miserable aunt and uncle who are terrified Harry will learn that he's really a wizard, just as his parents were. But everything changes when Harry is summoned to attend an infamous school for wizards, and he begins to discover some clues about his illustrious birthright. From the surprising way he is greeted by a lovable giant, to the unique curriculum and colorful faculty at his unusual school, Harry finds himself drawn deep inside a mystical world he never knew existed and closer to his own noble destiny.
Editorial Reviews
"Harry is destined for greatness."
—
New York Times
"A charming, imaginative, magical confection of a novel."
—
Boston Globe
"Jim Dale, with his fully voiced reading, brings the world of wizards to life in ways unimagined even by those who have read and re-read the book. The accents are sure, the inflections perfectly suit the characters, and some of Rowling's particularly inventive bits, like the game of Quidditch, become clearer. Sometimes poignant, often funny, Dale's interpretation of this enchanted other world is the consummate family-listening experience. Winner of the AudioFile Earphones Award."
—
AudioFile
"Whether or not you've read about Harry, this unabridged audiobook brings his world to life. Reader Jim Dale brings an excellent range of voices to the characters."
—
Amazon.com
"A brilliantly imagined and beautifully written fantasy…Rowling's wonderful ability to put a fantastic spin on sports, student rivalry, and eccentric faculty contributes to the humor, charm, and, well, delight of her utterly captivating story."
—
Booklist
Details
Available Formats :
CD, Library CD
Category:
Fiction/Fantasy
Runtime:
8.50
Audience:
Children (8–12)
Language:
English
To listen to this title you will need our latest app
Due to publishing rights this title requires DRM and can only be listened to in the Blackstone Library Beta app
DRM (Digital Rights Management) is a copyright protection for digital media. While much of Blackstone Library Beta's content is DRM free, and allows for usage across platforms, select products on Blackstone Library Beta are required by publishers to have DRM protected files. These products will be playable exclusively on the BlackstoneLibrary.com apps, available for iOS and Android devices.
To listen to this title you will need our latest app