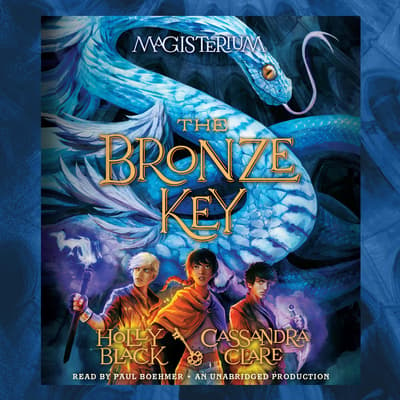 Format :

Library CD

(In Stock)
Category:
Fiction/Fantasy
Audience:
Children (8–12)
Language:
English
Summary
Magic can save you. Magic can kill you.

Students at the Magisterium are supposed to be safe. Under the watchful eyes of the mages, they are taught to use magic to bring order to a chaotic world.

But now the chaos is fighting back. Call, Tamara, and Aaron should be worrying about things like pop quizzes and magic contests. Instead, after the shocking death of one of their classmates, they must track down a sinister killer . . . and risk their own lives in the process.

As Call, Tamara, and Aaron discover, magic can only be as good as the person who wields it. In evil hands, it has the capacity to do immeasurable harm—unless it is stopped in time.

In this striking third book of Magisterium, bestselling authors Holly Black and Cassandra Clare present us with a school where anything—good or evil—can happen, and the only way to unlock the truth is to risk everything to find it.
Details
Available Formats :
CD, Library CD
Category:
Fiction/Fantasy
Audience:
Children (8–12)
Language:
English
To listen to this title you will need our latest app
Due to publishing rights this title requires DRM and can only be listened to in the Blackstone Library Beta app
DRM (Digital Rights Management) is a copyright protection for digital media. While much of Blackstone Library Beta's content is DRM free, and allows for usage across platforms, select products on Blackstone Library Beta are required by publishers to have DRM protected files. These products will be playable exclusively on the BlackstoneLibrary.com apps, available for iOS and Android devices.
To listen to this title you will need our latest app