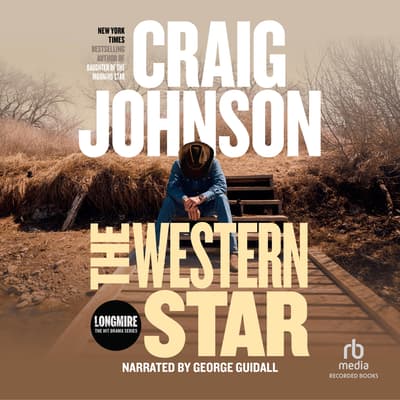 Format:

Library CD

(In Stock)
Category:
Fiction/Mystery & Detective
Audience:
Adult
Language:
English
Summary
New York Times bestseller
Winner of an AudioFile Earphones Award
The thirteenth novel in Craig Johnson's beloved New York Times bestselling Longmire series, the basis for the hit Netflix series Longmire Sheriff Walt Longmire is enjoying a celebratory beer after a weapons certification at the Wyoming Law Enforcement Academy when a younger sheriff confronts him with a photograph of twenty-five armed men standing in front of a Challenger steam locomotive. It takes him back to when, fresh from the battlefields of Vietnam, then-deputy Walt accompanied his mentor Lucian to the annual Wyoming Sheriff's Association junket held on the excursion train known as the Western Star, which ran the length of Wyoming from Cheyenne to Evanston and back. Armed with his trusty Colt .45 and a paperback of Agatha Christie's Murder on the Orient Express, the young Walt was ill-prepared for the machinations of twenty-four veteran sheriffs, let alone the cavalcade of curious characters that accompanied them. The photograph-along with an upcoming parole hearing for one of the most dangerous men Walt has encountered in a lifetime of law enforcement-hurtles the sheriff into a head-on collision of past and present, placing him and everyone he cares about squarely on the tracks of runaway revenge.
Editorial Reviews
"Bestseller Johnson pays homage to Agatha Christie in his cleverly plotted 13th Walt Longmire novel…Johnson winds up the whodunit with a solution that Christie could never have imagined." —Publishers Weekly (starred review)
"Narrator George Guidall continues his stellar delivery of Craig Johnson's Walt Longmire series…Guidall expertly carries listeners back and forth between 1972 and the present day, maintaining the plot's suspense without losing his audience in the forty-five-year gap. Johnson is a master of dialogue, and Guidall picks up every nuance perfectly. The later installments in this series seem to be taking on a darker tone, which Guidall adapts to accordingly while still managing to nail Johnson's humor. With Johnson and Guidall as a team, first-class entertainment is guaranteed. Winner of the AudioFile Earphones Award." —AudioFile
Details
Available Formats :
CD, Library CD
Category:
Fiction/Mystery & Detective
Audience:
Adult
Language:
English
To listen to this title you will need our latest app
Due to publishing rights this title requires DRM and can only be listened to in the Blackstone Library Beta app
DRM (Digital Rights Management) is a copyright protection for digital media. While much of Blackstone Library Beta's content is DRM free, and allows for usage across platforms, select products on Blackstone Library Beta are required by publishers to have DRM protected files. These products will be playable exclusively on the BlackstoneLibrary.com apps, available for iOS and Android devices.
To listen to this title you will need our latest app