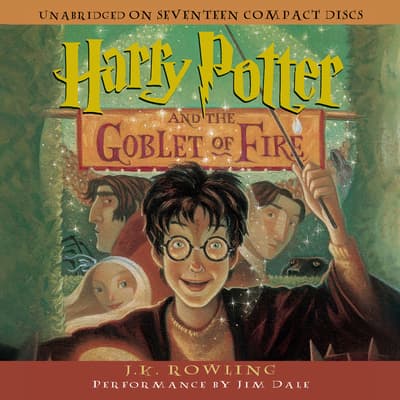 Format :

Library CD

(In Stock)
Runtime:
20.55 Hours
Category:
Fiction/Fantasy
Audience:
Children (8–12)
Language:
English
Summary
Winner of the 2001 Hugo Award for Best Novel
Winner of the AudioFile Earphones Award
A Grammy Award Winner for Best Spoken Word Album for Children in 2001
A 2002 Publishers Weekly Best Book for Fiction
Winner of the 2008 Mythopoeic Award
#1 USA Today bestseller
Winner of Audie Awards, 2001
Winner of GRAMMY Awards (Best Spoken Word Album), 2001
Read by Jim Dale
Running time: 20 hrs., 30 mins. 17 CDs.
Harry Potter returns to Hogwarts for his fourth year of magical adventures in Harry Potter and the Goblet of Fire. This year Harry turns 14 and becomes interested in girls -- one in particular. And with Dark Magic comes danger, as someone close to Harry dies. You'll have to listen to learn more! The audio is available on July 8th.
Editorial Reviews
"I'm relieved to report that Potter four is every bit as good as Potters one through three...The most remarkable thing about this book is that Rowling's punning, one-eyebrow-cocked sense of humor goes the distance."
—
Stephen King, New York Times Book Review
Spellbinding, enchanting, bewitching stuff — Mirror
I've yet to meet a ten­year­old who hasn't been entranced by its witty, complex plot and the character of the eponymous Harry —Independent
"What's wonderful about the Harry Potter stories is the believability of the world Harry and company inhabit, imagined by J.K. Rowling and fully realized through Jim Dale's portrayal."
—
AudioFile
"Brimming with all of the imagination, humor, and suspense that characterized the first books…it is a wonder that Rowling can keep track, much less control, of all the plot lines. She does, though, balancing humor, malevolence, school-day tedium, and shocking revelations with the aplomb of a circus performer." —School Library Journal
Details
Available Formats :
CD, Library CD
Category:
Fiction/Fantasy
Runtime:
20.55
Audience:
Children (8–12)
Language:
English
To listen to this title you will need our latest app
Due to publishing rights this title requires DRM and can only be listened to in the Blackstone Library app
DRM (Digital Rights Management) is a copyright protection for digital media. While much of Blackstone Library's content is DRM free, and allows for usage across platforms, select products on Blackstone Library are required by publishers to have DRM protected files. These products will be playable exclusively on the BlackstoneLibrary.com apps, available for iOS and Android devices.
To listen to this title you will need our latest app