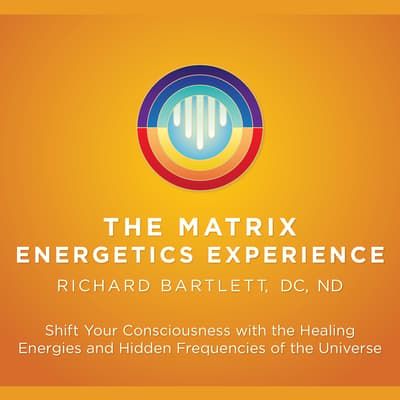 Matrix Energetics Experience: Shift Your Consciousness with the Healing Energies and Hidden Frequencies of the Universe
Unabridged
Format:

Library CD

(In Stock)
Category:
Nonfiction/Body, Mind & Spirit
Audience:
Adult
Language:
English
Summary
Are You Ready to Transcend the Limits of the Possible?
Science has spent centuries trying to define the laws of the universe. But in this era of breakthroughs in quantum physics, what have we finally learned?
"It turns out that the laws of the universe are just waiting for us to break them," explains Richard Bartlett. With The Matrix Energetics Experience, this extraordinary teacher invites you to learn the art of rewriting any rule of your reality.
What is Matrix Energetics? Born from energetic treatments that Bartlett discovered in his chiropractic practice, Matrix Energetics has evolved into a "technology of consciousness" for insight, healing, spiritual growth, and living a life unbound by limits.
Now The Matrix Energetics Experience takes you on a freewheeling and playful journey that will shatter your preconceptions about the seemingly "solid" universe we live in—and how unlimited your potential to change it truly is.
· The Two-Point Technique of healing and discovery
· Exercises for breaking down your subconscious limitations
· The 21 fundamental frequencies of the universe
· Zero Point energy and the malleable nature of the cosmos
· Exercises for applying quantum principles to your everyday life
Details
Available Formats :
CD, Library CD
Category:
Nonfiction/Body, Mind & Spirit
Audience:
Adult
Language:
English
To listen to this title you will need our latest app
Due to publishing rights this title requires DRM and can only be listened to in the Blackstone Library Beta app
DRM (Digital Rights Management) is a copyright protection for digital media. While much of Blackstone Library Beta's content is DRM free, and allows for usage across platforms, select products on Blackstone Library Beta are required by publishers to have DRM protected files. These products will be playable exclusively on the BlackstoneLibrary.com apps, available for iOS and Android devices.
To listen to this title you will need our latest app