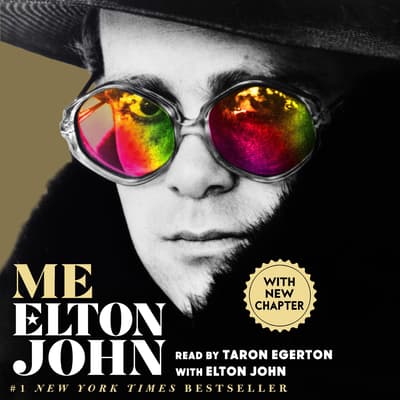 Format:

Library CD

(In Stock)
Runtime:
11.79 Hours
Category:
Nonfiction/Biography
Audience:
Adult
Language:
English
Summary
A Time Magazine Pick of Most Anticipated Books of Fall
A Parade Magazine Pick of Best Audiobooks for Fall
A Bustle Pick of Memoirs That Will Leave You Starstruck
A #1 Amazon.com bestseller in Dancer Biographies
In his first and only official autobiography, music icon Elton John reveals the truth about his extraordinary life, from his rollercoaster lifestyle as shown in the film Rocketman, to becoming a living legend.
Christened Reginald Dwight, he was a shy boy with Buddy Holly glasses who grew up in the London suburb of Pinner and dreamed of becoming a pop star. By the age of twenty-three he was performing his first gig in America, facing an astonished audience in his bright yellow dungarees, a star-spangled T-shirt, and boots with wings. Elton John had arrived and the music world would never be the same again.
His life has been full of drama, from the early rejection of his work with song-writing partner Bernie Taupin to spinning out of control as a chart-topping superstar; from half-heartedly trying to drown himself in his LA swimming pool to disco-dancing with Princess Diana and Queen Elizabeth; from friendships with John Lennon, Freddie Mercury, and George Michael to setting up his AIDS Foundation to conquering Broadway with Aida, The Lion King, and Billy Elliot the Musical. All the while Elton was hiding a drug addiction that would grip him for over a decade.
In Me, Elton also writes powerfully about getting clean and changing his life, about finding love with David Furnish and becoming a father. In a voice that is warm, humble, and open, this is Elton on his music and his relationships, his passions and his mistakes. This is a story that will stay with you by a living legend.
Editorial Reviews
"Elton John's first autobiography follows the rise of a music legend, capturing the moments of rejection, disappointment, and eventual superstar success he found throughout his career. Moving beyond his professional endeavors, he also writes of his personal battles and accomplishments, including his decade-long drug addition and his journey to parenthood." —Time
"Alas, John doesn't perform the full reading of his memoirs, but the audiobook has the second-best thing. Actor Taron Egerton, who basically became John in [the movie] Rocketman and has since performed with the musician, lends his considerable vocal talents to the narration." —Parade (audio review)
Details
Available Formats :
CD, Library CD
Category:
Nonfiction/Biography
Runtime:
11.79
Audience:
Adult
Language:
English
To listen to this title you will need our latest app
Due to publishing rights this title requires DRM and can only be listened to in the Blackstone Library Beta app
DRM (Digital Rights Management) is a copyright protection for digital media. While much of Blackstone Library Beta's content is DRM free, and allows for usage across platforms, select products on Blackstone Library Beta are required by publishers to have DRM protected files. These products will be playable exclusively on the BlackstoneLibrary.com apps, available for iOS and Android devices.
To listen to this title you will need our latest app