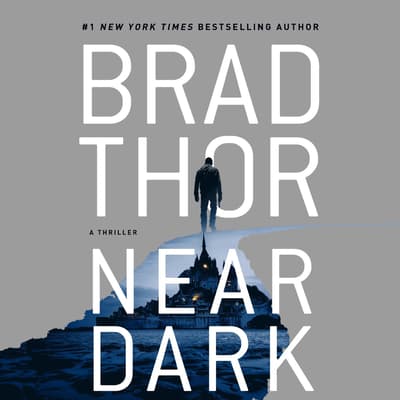 Format:

Library CD

(In Stock)
Category:
Fiction/Thrillers
Audience:
Adult
Language:
English
Summary
New York Times bestseller
A #1 Amazon.com bestseller in Conspiracy Thrillers
An Audible Pick of Listeners' Favorite Audiobooks of the Month
Wall Street Journal bestseller
New York Times Bestseller in Audio
Instant #1 New York Times and Wall Street Journal Bestseller
"Fast-paced...pulse-pounding...supremely entertaining…His best ever." —
The
Washington Times
"If you love thrillers…if you've ever read a thriller you enjoyed…if you think you *might* like a thriller…you HAVE to order Brad Thor's Near Dark. This might be the single greatest thriller I've covered on The Real Book Spy. It's amazing!"
—The Real Book Spy
Scot Harvath returns in the newest thriller from #1
New York Times
bestselling author Brad Thor.
The world's largest bounty has just been placed upon America's top spy. His only hope for survival is to outwit, outrun, and outlast his enemies long enough to get to the truth.
But for Scot Harvath to accomplish his most dangerous mission ever—one that has already claimed the lives of the people closest to him, including his new wife—he's going to need help—a lot of it.
Not knowing whom he can trust, Harvath finds an unlikely ally in Norwegian intelligence operative Sølvi Kolstad. Just as smart, just as deadly, and just as determined, she not only has the skills, but also the broken, troubled past to match Harvath's own.
"Not since Ian Fleming rendered James Bond a mere shell of himself in the wake of From Russia, With Love has an author pushed an icon to such depths."
—
Providence Journal
"Brad Thor has mastered the art of the thriller cliffhanger."
—
New York Journal of Books
"Brad Thor thrills yet again with Near Dark."
—
The San Diego Tribune
Editorial Reviews
"If you love thrillers…if you've ever read a thriller you enjoyed…if you think you might like a thriller…you have to order Brad Thor's Near Dark. This might be the single greatest thriller I've covered on The Real Book Spy. It's amazing!"
—
Real Spy
Details
Available Formats :
CD, Library CD
Category:
Fiction/Thrillers
Audience:
Adult
Language:
English
To listen to this title you will need our latest app
Due to publishing rights this title requires DRM and can only be listened to in the Blackstone Library Beta app
DRM (Digital Rights Management) is a copyright protection for digital media. While much of Blackstone Library Beta's content is DRM free, and allows for usage across platforms, select products on Blackstone Library Beta are required by publishers to have DRM protected files. These products will be playable exclusively on the BlackstoneLibrary.com apps, available for iOS and Android devices.
To listen to this title you will need our latest app