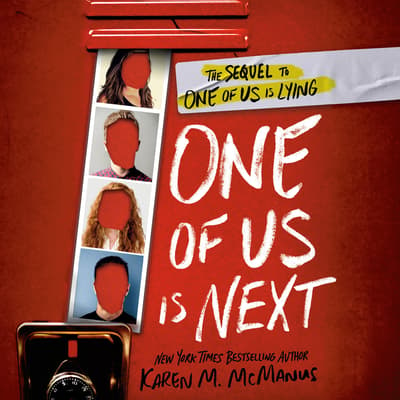 Format:

Library CD

(In Stock)
Available on 01/07/2020

ISBN: 9780593154083

Available on 01/07/2020

ISBN: 9780593154083
Category:
Fiction/Mystery & Detective
Audience:
Young Adult (12–17)
Language:
English
Summary
The highly anticipated sequel to the New York Times bestselling thriller everyone is talking about, One of Us Is Lying! There's a new mystery to solve at Bayview High, and there's a whole new set of rules.

Come on, Bayview, you know you've missed this.

A ton of copycat gossip apps have popped up since Simon died, but in the year since the Bayview four were cleared of his shocking death, no one's been able to fill the gossip void quite like he could. The problem is no one has the facts.

Until now.

This time it's not an app, though—it's a game.

Truth or Dare.

Phoebe's the first target. If you choose not to play, it's a truth. And hers is dark.

Then comes Maeve and she should know better—always choose the dare.

But by the time Knox is about to be tagged, things have gotten dangerous. The dares have become deadly, and if Maeve learned anything from Bronwyn last year, it's that they can't count on the police for help. Or protection.

Simon's gone, but someone's determined to keep his legacy at Bayview High alive. And this time, there's a whole new set of rules.

And don't miss Two Can Keep a Secret, Karen's third "must-read YA thriller" (Bustle)!


Cast of Audiobook Narrators:
Holly Linneman as PHOEBE
Maria Liatis as MAEVE
Fred Berman as KNOX
Karissa Vacker as THE NARRATOR


Praise for One of Us Is Lying:

"Pretty Little Liars meets The Breakfast Club....so make room for One of Us Is Lying in your bags, because this is one carry-on you won't want to put down." —EW.com

"You'll tear through this juicy, super-fun (if murder can ever be fun?) thriller."—Bustle.com

"A whodunit with a Breakfast Club twist...following four unique voices on a chase to find the killer, this one will keep you guessing until the very, very end."—Popcrush

"Twisty plotting, breakneck pacing and intriguing characterisation add up to an exciting, single-sitting thrillerish treat."—The Guardian

"This is no ordinary whodunit…surprising and relevant."—USA Today


Editorial Reviews
This fast-paced blend of Gossip Girl, Pretty Little Liars, and classic John Hughes will leave readers racing to the finish as the try to unravel the mystery on their own. —Kirkus Reviews
One of Us Is Lying is flat-out addictive...[McManus] weaves an authentic, suspenseful mystery that readers can imagine taking place at their very own high school.
—
RT Book Reviews
"A smart, twisted, and unpredictable YA mystery that will have readers guessing until the very end. —SLJ
"An engaging, enticing look at the pressures of high school and the things that cause a person to lose control. —Booklist
An addictive, devour-in-one-sitting thriller with so many twists and turns you'll be wondering until the very end: Who really killed Simon? —Kara Thomas, author of The Darkest Corners and Little Monsters ★"[As] McManus's intense mystery unfolds...each character becomes more complex and nuanced, adding richness and depth to the suspense.
"Readers will have a hard time putting this clever page-turner down.
—
BookPage.com
You'll tear through this juicy, super-fun (if murder can ever be fun?) thriller.
—
Bustle.com
A whodunit with a
Breakfast Club
twist...following four unique voices on a chase to find the killer, this one will keep you guessing until the very, very end.
—
Popcrush
Twisty plotting, breakneck pacing and intriguing characterisation add up to an exciting, single-sitting thrillerish treat. —The Guardian
This is no ordinary whodunit…surprising and relevant. —USA Today
Pretty Little Liars
meets
The Breakfast Club
....so make room for
One of Us Is Lying
in your bags, because this is one carry-on you won't want to put down.
—
EW.com
Details
Available Formats :
CD, Library CD
Category:
Fiction/Mystery & Detective
Audience:
Young Adult (12–17)
Language:
English
To listen to this title you will need our latest app
Due to publishing rights this title requires DRM and can only be listened to in the Blackstone Library Beta app
DRM (Digital Rights Management) is a copyright protection for digital media. While much of Blackstone Library Beta's content is DRM free, and allows for usage across platforms, select products on Blackstone Library Beta are required by publishers to have DRM protected files. These products will be playable exclusively on the BlackstoneLibrary.com apps, available for iOS and Android devices.
To listen to this title you will need our latest app