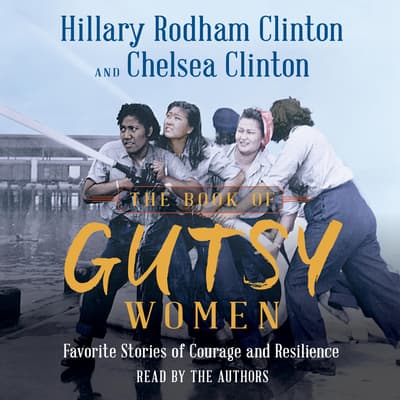 Format:

Library CD

(In Stock)
Category:
Nonfiction/Biography
Audience:
Adult
Language:
English
Summary
Hillary Rodham Clinton and her daughter, Chelsea, share the stories of the gutsy women who have inspired them—women with the courage to stand up to the status quo, ask hard questions, and get the job done.

She couldn't have been more than seven or eight years old. "Go ahead, ask your question," her father urged, nudging her forward. She smiled shyly and said, "You're my hero. Who's yours?"

Many people—especially girls—have asked us that same question over the years. It's one of our favorite topics.

HILLARY: Growing up, I knew hardly any women who worked outside the home. So I looked to my mother, my teachers, and the pages of Life magazine for inspiration. After learning that Amelia Earhart kept a scrapbook with newspaper articles about successful women in male-dominated jobs, I started a scrapbook of my own. Long after I stopped clipping articles, I continued to seek out stories of women who seemed to be redefining what was possible.

CHELSEA: This book is the continuation of a conversation the two of us have been having since I was little. For me, too, my mom was a hero; so were my grandmothers. My early teachers were also women. But I grew up in a world very different from theirs. My pediatrician was a woman, and so was the first mayor of Little Rock who I remember from my childhood. Most of my close friends' moms worked outside the home as nurses, doctors, teachers, professors, and in business. And women were going into space and breaking records here on Earth.

Ensuring the rights and opportunities of women and girls remains a big piece of the unfinished business of the twenty-first century. While there's a lot of work to do, we know that throughout history and around the globe women have overcome the toughest resistance imaginable to win victories that have made progress possible for all of us. That is the achievement of each of the women in this book.

So how did they do it? The answers are as unique as the women themselves. Civil rights activist Dorothy Height, LGBTQ trailblazer Edie Windsor, and swimmer Diana Nyad kept pushing forward, no matter what. Writers like Rachel Carson and Chimamanda Ngozi Adichie named something no one had dared talk about before. Historian Mary Beard used wit to open doors that were once closed, and Wangari Maathai, who sparked a movement to plant trees, understood the power of role modeling. Harriet Tubman and Malala Yousafzai looked fear in the face and persevered. Nearly every single one of these women was fiercely optimistic—they had faith that their actions could make a difference. And they were right.

To us, they are all gutsy women—leaders with the courage to stand up to the status quo, ask hard questions, and get the job done. So in the moments when the long haul seems awfully long, we hope you will draw strength from these stories. We do. Because if history shows one thing, it's that the world needs gutsy women.
Editorial Reviews
The powerful voices of Hillary Rodham Clinton and Chelsea Clinton deliver their new audiobook. Based on a lifelong series of conversations between mother and daughter, this work gives listeners an opportunity to embrace the impact, major and minor, of various women throughout history. Whether fighting for equality or going where no woman has gone before, the women in this audiobook come from all walks of life. Hillary's delivery is delightfully candid, even throwing a few jabs at the sexism she faced during the 2016 election. In warm tones, Chelsea shares personal stories of how these women have influenced her family. The result is an audiobook that packs a powerful and personal message." —
Details
Available Formats :
CD, Library CD
Category:
Nonfiction/Biography
Audience:
Adult
Language:
English
To listen to this title you will need our latest app
Due to publishing rights this title requires DRM and can only be listened to in the Blackstone Library Beta app
DRM (Digital Rights Management) is a copyright protection for digital media. While much of Blackstone Library Beta's content is DRM free, and allows for usage across platforms, select products on Blackstone Library Beta are required by publishers to have DRM protected files. These products will be playable exclusively on the BlackstoneLibrary.com apps, available for iOS and Android devices.
To listen to this title you will need our latest app