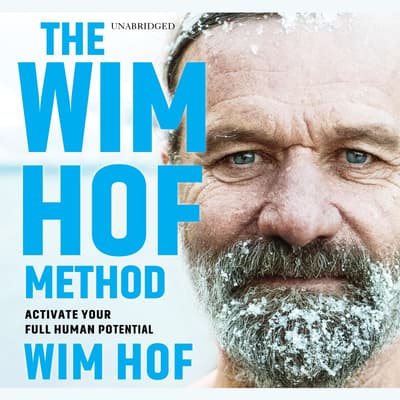 Format :

Library CD

(In Stock)
Category:
Nonfiction/Health & Fitness
Audience:
Adult
Language:
English
Summary
The only definitive book authored by Wim Hof on his powerful method for realizing our physical and spiritual potential.
"This method is very simple, very accessible, and endorsed by science. Anybody can do it, and there is no dogma, only acceptance. Only freedom." ―Wim Hof
Wim Hof has a message for each of us: "You can literally do the impossible. You can overcome disease, improve your mental health and physical performance, and even control your physiology so you can thrive in any stressful situation." With The Wim Hof Method, this trailblazer of human potential shares a method that anyone can use―young or old, sick or healthy―to supercharge their capacity for strength, vitality, and happiness.
Wim has become known as "The Iceman" for his astounding physical feats, such as spending hours in freezing water and running barefoot marathons over deserts and ice fields. Yet his most remarkable achievement is not any record-breaking performance―it is the creation of a method that thousands of people have used to transform their lives.
In his gripping and passionate style, Wim shares his method and his story, including:
Breath―Wim's unique practices to change your body chemistry, infuse yourself with energy, and focus your mind
Cold―Safe, controlled, shock-free practices for using cold exposure to enhance your cardiovascular system and awaken your body's untapped strength
Mindset―Build your willpower, inner clarity, sensory awareness, and innate joyfulness in the miracle of living
Science―How users of this method have redefined what is medically possible in study after study
Health―True stories and testimonials from people using the method to overcome disease and chronic illness
Performance―Increase your endurance, improve recovery time, up your mental game, and more
Wim's Story―Follow Wim's inspiring personal journey of discovery, tragedy, and triumph
Spiritual Awakening―How breath, cold, and mindset can reveal the beauty of your soul
Wim Hof is a man on a mission: to transform the way we live by reminding us of our true power and purpose. "This is how we will change the world, one soul at a time," Wim says. "We alter the collective consciousness by awakening to our own boundless potential. We are limited only by the depth of our imagination and the strength of our conviction."
If you're ready to explore and exceed the limits of your own potential, The Wim Hof Method is waiting for you.
Editorial Reviews
I enjoyed this book immensely! Get inside the mind of Wim Hof and learn why millions of people worldwide feel the freeze and do it anyway. Breathe in, chill out, and enjoy the ride. —Patrick McKeown, author of The Oxygen Advantage
"Wim Hof has inspired millions of people to use just their bodies and breath to heat then heal themselves of a laundry list of chronic illnesses…This book is a valuable guide to anyone looking to take better control of the health, heat, and untapped potential locked away within us all."
—
James Nestor, New York Times bestselling author
"This spirited and humane guide will inspire self-help readers who are looking for a challenge."
—
Publishers Weekly
Wim is a force of nature and love! I have been lucky enough to spend intimate time training with him in person. This book is the next best thing. Take the journey with Wim through his stories, the science, and the method to discover that you are capable of more than you thought possible. —Lewis Howes, New York Times bestselling author of and host of The School of Greatness
Wim Hof is a wild-crafted yogi, sharing instantly accessible tools of cold exposure and breath work to return us to wholeness and health. —Elena Brower, bestselling author of Practice You
If you had to read one book on how to feel great, this is it. I'm so glad Wim's techniques have been summarized in such an easy-to-digest way. I've been doing his method religiously . . . because it works.
—
Jesse Itzler, serial entrepreneur, bestselling author, endurance athlete, and an owner of the Atlanta Hawks
With the bombastic certainty of a man obsessed, Wim Hof offers scientific curiosities worthy of further investigation, as well as groundbreaking self-healing tools worth experimenting with yourself, especially if conventional medicine has failed to help you. —Lissa Rankin, MD, New York Times bestselling author of Mind Over Medicine
The Wim Hof Method allows us to cultivate our body and mind in ways that release our potential for greater health and vitality. When provided with low levels of healthy stress, our body becomes more resilient and more alive. My days are better when I begin them with the Wim Hof Method. —Doug Abrams, coauthor of the New York Times bestseller The Book of Joy
"Wim Hof is a man of extraordinary talents who demonstrates great control of involuntary physiological functions, developed by learning to tolerate exposure to cold and by working with the breath. He has taught the Wim Hof Method to many people and in this book explains it in detail. Recommended reading for everyone interested in human potentials.
—
Andrew Weil, MD, director of the Andrew Weil Center for Integrative Medicine, New York Times bestselling author
Details
Available Formats :
CD, Library CD
Category:
Nonfiction/Health & Fitness
Audience:
Adult
Language:
English
To listen to this title you will need our latest app
Due to publishing rights this title requires DRM and can only be listened to in the Blackstone Library Beta app
DRM (Digital Rights Management) is a copyright protection for digital media. While much of Blackstone Library Beta's content is DRM free, and allows for usage across platforms, select products on Blackstone Library Beta are required by publishers to have DRM protected files. These products will be playable exclusively on the BlackstoneLibrary.com apps, available for iOS and Android devices.
To listen to this title you will need our latest app