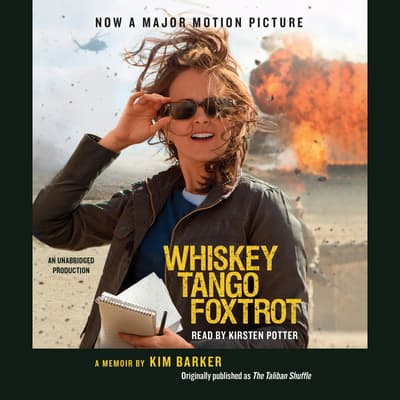 Format:

Library CD

(In Stock)
Category:
Nonfiction/Biography
Audience:
Adult
Language:
English
Summary
Now a Major Motion Picture titled Whiskey Tango Foxtrot starring Tina Fey, Margot Robbie, Martin Freeman, Alfred Molina, and Billy Bob Thornton.

One of Time Magazine's Ten Best Books of 2014

Selected by NPR, Slate, and Kirkus as one of the Best Books of 2014

Shortlisted for the Pacific Northwest Book Award


Three young adults grapple with the usual thirty-something problems--boredom, authenticity, an omnipotent online oligarchy--in David Shafer's darkly comic debut novel.

The Committee, an international cabal of industrialists and media barons, is on the verge of privatizing all information. Dear Diary, an idealistic online Underground, stands in the way of that takeover, using radical politics, classic spycraft, and technology that makes Big Data look like dial-up. Into this secret battle stumbles an unlikely trio: Leila Majnoun, a disillusioned non-profit worker; Leo Crane, an unhinged trustafarian; and Mark Deveraux, a phony self-betterment guru who works for the Committee.

Leo and Mark were best friends in college, but early adulthood has set them on diverging paths. Growing increasingly disdainful of Mark's platitudes, Leo publishes a withering takedown of his ideas online. But the Committee is reading--and erasing--Leo's words. On the other side of the world, Leila's discoveries about the Committee's far-reaching ambitions threaten to ruin those who are closest to her.

In the spirit of William Gibson and Chuck Palahniuk, Whiskey Tango Foxtrot is both a suspenseful global thriller and an emotionally truthful novel about the struggle to change the world in- and outside your head.
Editorial Reviews
Brilliant, tender, and unexpectedly hilarious. — Marie Claire
Reveals many enduring truths. . . . Novel both for its humor and for its perspective . . . it rises (or sinks) to levels of seriousness that will be remembered long after the po-faced analysis of other writers has been forgotten. —The National
Candid and darkly comic. . . . With self-deprecation and a keen eye for the absurd, Barker describes her evolution from a green, fill-in correspondent to an adrenaline junkie. —Publisher's Weekly
The Taliban Shuffle is Scoop meets Dispatches, remixed with a twenty-first-century Bollywood soundtrack. Laugh-out-loud funny, it is the true story of what it is like to be a female journalist in one of the world's most exotic war zones, while telling the reader much about what is really going on today in Afghanistan and Pakistan. —Peter Bergen, author of The Longest War: The Enduring Conflict between America and Al-Qaeda
Yes, there are bombs. And there is carnage. And all sorts of mayhem. But mostly there are people, human beings even, with appetites—for life, for adventure, for riches, for love. Ms. Barker offers this world—the human world caught in the crosshairs of history—with a vitality rarely seen in accounts of the war. A compelling read that offers readers a glimpse of the goings-on behind the byline. —J. Maarten Troost, author of The Sex Lives of Cannibals
[An] immensely entertaining memoir. —The Boston Globe
Politically astute and clearly influenced by Hunter S. Thompson, Barker provides sharp commentary on the impotence of American foreign policy in South Asia after the victory against the Taliban. . . . Fierce, funny and unflinchingly honest. —Kirkus Reviews
The Taliban Shuffle gives us an insider's perspective of Afghanistan and Pakistan—their fascinating cultures, unstable governments, and burgeoning terrorist groups. . . . With dark, self-deprecating humor and shrewd insight, Barker chronicles her experiences as a rookie foreign reporter and the critical years when the Taliban resurged amidst the collapse of the Afghan and Pakistani governments. —The Daily Beast
The Taliban Shuffle is part war memoir, part tale of self-discovery that, thanks to Barker's biting honesty and wry wit, manages to be both hilarious and heartbreaking. —Chicago Tribune 
The Taliban Shuffle isn't like any other book out there about Afghanistan and Pakistan. It's witty, brilliant, and impossible to put down. —Rajiv Chandrasekaran, author of Imperial Life in the Emerald City
What you'd hear if the reporter never turned off the voice recorder between interviews—brilliant firsthand outtakes that wind up telling us more about the Afghan debacle than any foreign policy briefing. —The Seattle Times
At once funny and harrowing, insightful and appalling. . . . The Taliban Shuffle will pull you in so deep that you'll smell the poppies and quake from the bombs. —The Minneapolis Star Tribune 
Kim Barker gives a true and amusing picture of hellholes and the reporters on assignment in them. But she breaks the journo code of silence and reveals a trade secret of the hacks who cover hellholes: The hell of the holes is that they're kind of fun.
—
P. J. O'Rourke 
If you're looking for a window on the challenges facing Afghanistan and Pakistan today—from a resurgent Taliban to American incompetence to Afghan and Pakistani corruption and nepotism—Barker provides a sterling vantage point. —San Francisco Chronicle  
Remarkable. . . . [Barker] has written an account of her experiences covering Afghanistan and Pakistan that manages to be hilarious and harrowing, witty and illuminating, all at the same time. —Michiko Kakutani, The New York Times   
Details
Available Formats :
CD, Library CD
Category:
Nonfiction/Biography
Audience:
Adult
Language:
English
To listen to this title you will need our latest app
Due to publishing rights this title requires DRM and can only be listened to in the Blackstone Library Beta app
DRM (Digital Rights Management) is a copyright protection for digital media. While much of Blackstone Library Beta's content is DRM free, and allows for usage across platforms, select products on Blackstone Library Beta are required by publishers to have DRM protected files. These products will be playable exclusively on the BlackstoneLibrary.com apps, available for iOS and Android devices.
To listen to this title you will need our latest app