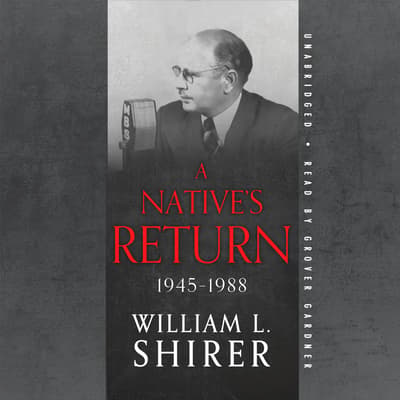 Format:

Library CD

(In Stock)
Available on 05/26/2020

ISBN: 9781094060828

Available on 05/26/2020

ISBN: 9781094060811

Available on 05/26/2020

ISBN: 9781094060835
Category:
Nonfiction/Biography
Audience:
Adult
Language:
English
Summary
The prominent journalist, historian, and author—an eyewitness to some of the most pivotal events of the twentieth century—tells the story of his final years.
In this last book of a three-volume series, William L. Shirer recounts his return to Berlin after the Third Reich's defeat. Having fled Berlin and imminent arrest by the Gestapo in 1940, Shirer returned to Europe in October 1945 to verify the facts of the Fuhrer's death, thus bringing to a close—or so he thought—his involvement with the Third Reich.
He describes his return to his homeland and his ensuing careers as a broadcast journalist and author. He describes the McCarthy years and how the blacklist affected his own network, CBS.
More personal than the first two volumes, this final installment takes an unflinching look at the author's own struggles after World War II, his shocking firing by CBS News, and his final visit to Paris sixty years after he first lived there as a cub reporter in the 1920s. Here is also his vindication after the publication of The Rise and Fall of the Third Reich, his most acclaimed work. It also provides intimate details of his often-troubled marriage, and it paints a bittersweet picture of his final decades, friends lost to old age, and a changing world.
This book gives listeners a surprising and moving account of the last years of a true historian—and an important witness to history.
Editorial Reviews
"This third and final installment of the author/broadcaster's memoirs examines in human terms the forces that shaped the history of the past five decades. Included in Shirer's well-wrought narrative are such little-known events as the trials of American broadcasters who propagandized for the Third Reich during WW II, as well as such more familiar matters as the McCarthyism of the 1950's. The author's comments are refreshingly unfettered by self-consciousness…A fine, fitting conclusion to an important work of autobiography." —Kirkus Reviews
Details
Available Formats :
CD, Library CD, MP3 CD
Category:
Nonfiction/Biography
Audience:
Adult
Language:
English
To listen to this title you will need our latest app
Due to publishing rights this title requires DRM and can only be listened to in the Blackstone Library Beta app
DRM (Digital Rights Management) is a copyright protection for digital media. While much of Blackstone Library Beta's content is DRM free, and allows for usage across platforms, select products on Blackstone Library Beta are required by publishers to have DRM protected files. These products will be playable exclusively on the BlackstoneLibrary.com apps, available for iOS and Android devices.
To listen to this title you will need our latest app