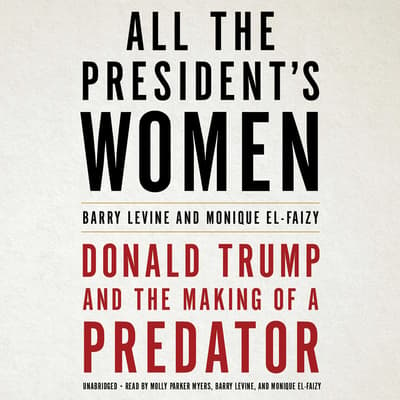 Format:

Library CD

(In Stock)
Available on 11/05/2019

ISBN: 9781549124105

Available on 10/22/2019

ISBN: 9781549154164
Runtime:
8.40 Hours
Category:
Nonfiction/Biography
Audience:
Adult
Language:
English
Summary
Based on groundbreaking original reporting, an extensive new look at Donald Trump's relationships with women, revealing new accusations of sexual misconduct, exploring the roots of his alleged predatory behavior, and illustrating how Trump's presidency has helped catalyze the #MeToo movement and revitalize women's activism.
Details
Available Formats :
CD, Library CD
Category:
Nonfiction/Biography
Runtime:
8.40
Audience:
Adult
Language:
English
To listen to this title you will need our latest app
Due to publishing rights this title requires DRM and can only be listened to in the Blackstone Library Beta app
DRM (Digital Rights Management) is a copyright protection for digital media. While much of Blackstone Library Beta's content is DRM free, and allows for usage across platforms, select products on Blackstone Library Beta are required by publishers to have DRM protected files. These products will be playable exclusively on the BlackstoneLibrary.com apps, available for iOS and Android devices.
To listen to this title you will need our latest app