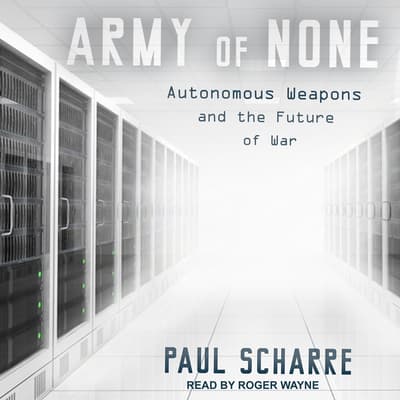 Format:

Library CD

(In Stock)
Category:
Nonfiction/Technology & Engineering
Audience:
Adult
Language:
English
Summary
Paul Scharre, a Pentagon defense expert and former U.S. Army Ranger, explores what it would mean to give machines authority over the ultimate decision of life or death.

Scharre's far-ranging investigation examines the emergence of autonomous weapons, the movement to ban them, and the legal and ethical issues surrounding their use. He spotlights artificial intelligence in military technology, spanning decades of innovation from German noise-seeking Wren torpedoes in World War II—antecedents of today's homing missiles—to autonomous cyber weapons, submarine-hunting robot ships, and robot tank armies.

Through interviews with defense experts, ethicists, psychologists, and activists, Scharre surveys what challenges might face "centaur warfighters" on future battlefields, which will combine human and machine cognition. We've made tremendous technological progress in the past few decades, but we have also glimpsed the terrifying mishaps that can result from complex automated systems—such as when advanced F-twenty-two fighter jets experienced a computer meltdown the first time they flew over the International Date Line.
Editorial Reviews
"The era of autonomous weapons is upon us. In Army of None, Scharre combines his experience as a warrior and his insight as a policy researcher to paint a comprehensive picture of exactly what such an era will look like. He masterfully weaves together threads tying future weapon systems, artificial intelligence, and policy imperatives to deliver a book that is simply a must-read for anyone interested in military technology and its broader implications." —Amir Husain, author of The Sentient Machine
"A tour de force of the future of war technology. A former US Army Ranger turned defense analyst, Paul Scharre has been there and back. He skillfully uses that background to blend personal experience and thoughtful analysis into a highly readable journey through the world of robots on the battlefield and beyond." —P. W. Singer, author of Cybersecurity and Cyberwar
Details
Available Formats :
CD, Library CD
Category:
Nonfiction/Technology & Engineering
Audience:
Adult
Language:
English
To listen to this title you will need our latest app
Due to publishing rights this title requires DRM and can only be listened to in the Blackstone Library Beta app
DRM (Digital Rights Management) is a copyright protection for digital media. While much of Blackstone Library Beta's content is DRM free, and allows for usage across platforms, select products on Blackstone Library Beta are required by publishers to have DRM protected files. These products will be playable exclusively on the BlackstoneLibrary.com apps, available for iOS and Android devices.
To listen to this title you will need our latest app