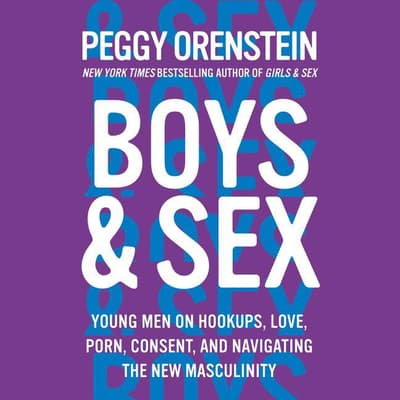 Boys & Sex: Young Men on Hookups, Love, Porn, Consent, and Navigating the New Masculinity
Unabridged
Format:

Library CD

(In Stock)
Available on 01/07/2020

ISBN: 9781094105338

Available on 01/07/2020

ISBN: 9781094105321

Available on 01/07/2020

ISBN: 9781094105345
Category:
Nonfiction/Family & Relationships
Audience:
Adult
Language:
English
Summary
The author of the groundbreaking New York Times bestsellers Girls & Sex and Cinderella Ate My Daughter now turns her focus to the sexual lives of young men, once again offering "both an examination of sexual culture and a guide on how to improve it" (Washington Post).
Peggy Orenstein's Girls & Sex broke ground, shattered taboos, and launched conversations about young women's right to pleasure and agency in sexual encounters. It also had an unexpected effect on its author: Orenstein realized that talking about girls is only half the conversation. Boys are subject to the same cultural forces as girls—steeped in the same distorted media images and binary stereotypes of female sexiness and toxic masculinity—which equally affect how they navigate sexual and emotional relationships. In Boys & Sex, Peggy Orenstein dives back into the lives of young people to once again give voice to the unspoken, revealing how young men understand and negotiate the new rules of physical and emotional intimacy.
Drawing on comprehensive interviews with young men, psychologists, academics, and experts in the field, Boys & Sex dissects so-called locker room talk; how the word "hilarious" robs boys of empathy; pornography as the new sex education; boys' understanding of hookup culture and consent; and their experience as both victims and perpetrators of sexual violence. By surfacing young men's experience in all its complexity, Orenstein is able to unravel the hidden truths, hard lessons, and important realities of young male sexuality in today's world. The result is a provocative and paradigm-shifting work that offers a much-needed vision of how boys can truly move forward as better men.
Details
Available Formats :
CD, Library CD, MP3 CD
Category:
Nonfiction/Family & Relationships
Audience:
Adult
Language:
English
To listen to this title you will need our latest app
Due to publishing rights this title requires DRM and can only be listened to in the Blackstone Library Beta app
DRM (Digital Rights Management) is a copyright protection for digital media. While much of Blackstone Library Beta's content is DRM free, and allows for usage across platforms, select products on Blackstone Library Beta are required by publishers to have DRM protected files. These products will be playable exclusively on the BlackstoneLibrary.com apps, available for iOS and Android devices.
To listen to this title you will need our latest app