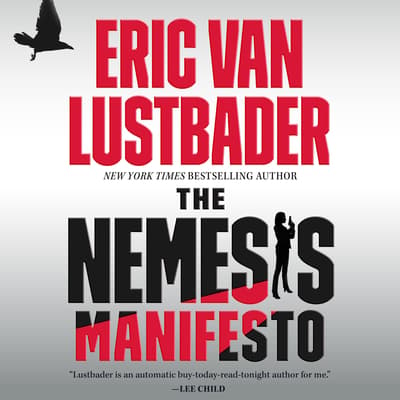 Format:

Library CD

(In Stock)
Available on 05/19/2020

ISBN: 9781250755094

Available on 05/19/2020

ISBN: 9781250755094
Category:
Fiction/Thrillers
Audience:
Adult
Language:
English
Summary
Russian meddling, American fragmentation, and global politics collide in this action-packed, international thriller.
In The Nemesis Manifesto, New York Times bestselling author Eric Van Lustbader, "the master of the smart thriller,"* delivers an epic and harrowing adventure of the predatory forces that are threatening the very fabric of democracy and kicks off a compelling new series with a singular new hero for our time.
Evan Ryder is a lone wolf, a field agent for a black-ops arm of the DOD, who has survived unspeakable tragedy and dedicated her life to protecting her country. When her fellow agents begin to be systematically eliminated, Evan must unravel the thread that ties them all together...and before her name comes up on the kill list.
The list belongs to a mysterious cabal known only as Nemesis, a hostile entity hell-bent on tearing the United States apart. As Evan tracks them from Washington D.C. to the Caucasus Mountains, from Austria to a fortress in Germany where her own demons reside, she unearths a network of conspirators far more complex than anyone could have imagined. Can Evan uproot them before Nemesis forces bring democracy to its knees?
*Nelson DeMille
A Macmillan Audio production from Forge Books
Details
Available Formats :
CD, Library CD
Category:
Fiction/Thrillers
Audience:
Adult
Language:
English
To listen to this title you will need our latest app
Due to publishing rights this title requires DRM and can only be listened to in the Blackstone Library Beta app
DRM (Digital Rights Management) is a copyright protection for digital media. While much of Blackstone Library Beta's content is DRM free, and allows for usage across platforms, select products on Blackstone Library Beta are required by publishers to have DRM protected files. These products will be playable exclusively on the BlackstoneLibrary.com apps, available for iOS and Android devices.
To listen to this title you will need our latest app