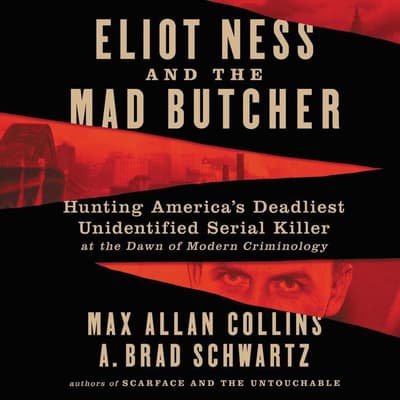 Eliot Ness and the Mad Butcher: Hunting America's Deadliest Unidentified Serial Killer at the Dawn of Modern Criminology
By Max Allan Collins  and A. Brad Schwartz
Unabridged
Format:

Library CD

(In Stock)
Available on 08/04/2020

ISBN: 9781094168951

Available on 08/04/2020

ISBN: 9781094168944

Available on 08/04/2020

ISBN: 9781094168968
Category:
Nonfiction/True Crime
Audience:
Adult
Language:
English
Summary
In the spirit of Devil in the White City, Furious Hours, and I'll Be Gone in the Dark, comes a true detective tale of the highest standard: the haunting story of Eliot Ness's forgotten final case—his years-long hunt for "The Mad Butcher of Kingsbury Run," a serial killer who terrorized Cleveland through the 1936 World's Fair, and obsessed Ness to his dying breath.
In 1935, the nation's most legendary crime-fighter—the man who had just taken down the greatest gangster in American history—arrived in Cleveland on the eve of hosting the World's Fair. It was to be his coronation, as well as the city's. Instead, terror descended, as headless bodies started washing up on shores of Lake Erie.
Eliot Ness's greatest case had begun.
Now, the acclaimed writing team behind Scarface and the Untouchable uncovers this lost crime epic, delivering a gripping and unforgettable nonfiction account based on their groundbreaking research.
During Prohibition, Ness had risen to fame for leading the "Untouchables" unit, which had helped put Al Capone behind bars. Soon after, he was hired as Cleveland's public safety director, in charge of the police and fire departments. Cleveland, then a rising industrial hub nearing the height of its powers, was preparing for a star-turn itself: in 1936, it would host the "Great Lakes Exhibition," a world's fair which would be visited by seven million people. Late in the summer of 1935, however, pieces of a woman's body began to show up on the Lake Erie shore—first her ribs, then part of her backbone, and then, on September 5, the lower half of her torso. The body soon count grew to five, then ten, then more, all dismembered in gruesome ways.
As Ness zeroed in on a suspect—a doctor tied to a prominent political family—powerful forces thwarted his quest for justice. In this battle between a flawed hero and a twisted monster—by turns horror story, political drama, and detective thriller—Collins and Schwartz find an American tragedy, classic in structure, epic in scope.
Details
Available Formats :
CD, Library CD, MP3 CD
Category:
Nonfiction/True Crime
Audience:
Adult
Language:
English
To listen to this title you will need our latest app
Due to publishing rights this title requires DRM and can only be listened to in the Blackstone Library Beta app
DRM (Digital Rights Management) is a copyright protection for digital media. While much of Blackstone Library Beta's content is DRM free, and allows for usage across platforms, select products on Blackstone Library Beta are required by publishers to have DRM protected files. These products will be playable exclusively on the BlackstoneLibrary.com apps, available for iOS and Android devices.
To listen to this title you will need our latest app