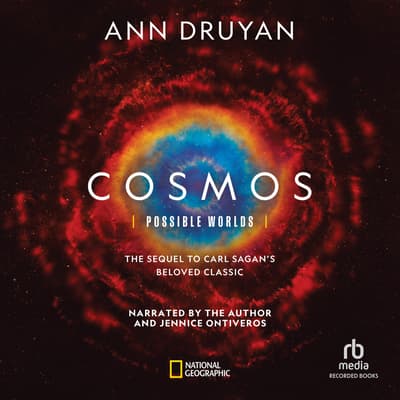 Format:

Library CD

(In Stock)
Available on 04/07/2020

ISBN: 9781980027522

Available on 04/07/2020

ISBN: 9781980027522
Category:
Nonfiction/Science
Audience:
Adult
Language:
English
Summary
This all-new and long-awaited sequel to Carl Sagan and Ann Druyan's international bestseller Cosmos takes readers to worlds only now emerging with the advent of new technologies. Druyan takes readers on an extraordinary journey through the vast and unexplored realms of Earth and space, past and future, fact and imagination. In coordination with the debut of the second TV season of National Geographic's Cosmos, the book travels through more than 14 billion years of cosmic evolution and into an astonishing future, helping us solve enduring mysteries of our origins and dream of an unimaginable time ahead. We meet the colorful characters who push beyond the boundaries of knowledge--both the little-known but monumental visionaries of the past and the scientists whose work is shaping our future. Featuring color photographs, art, and diagrams--plus a foreword by Neil deGrasse Tyson--complete this highly anticipated package.
Details
Available Formats :
CD, Library CD
Category:
Nonfiction/Science
Audience:
Adult
Language:
English
To listen to this title you will need our latest app
Due to publishing rights this title requires DRM and can only be listened to in the Blackstone Library Beta app
DRM (Digital Rights Management) is a copyright protection for digital media. While much of Blackstone Library Beta's content is DRM free, and allows for usage across platforms, select products on Blackstone Library Beta are required by publishers to have DRM protected files. These products will be playable exclusively on the BlackstoneLibrary.com apps, available for iOS and Android devices.
To listen to this title you will need our latest app