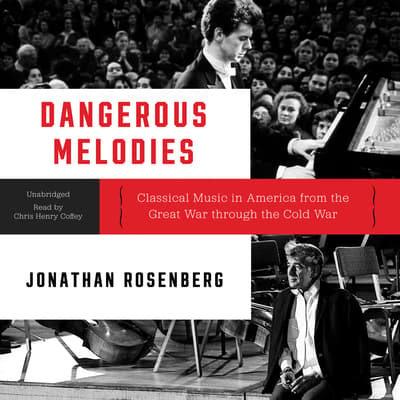 Format:

Library CD

(In Stock)
Available on 03/10/2020

ISBN: 9781094021249

Available on 03/10/2020

ISBN: 9781094021232

Available on 03/10/2020

ISBN: 9781094021256
Category:
Nonfiction/Music
Audience:
Adult
Language:
English
Summary
A Juilliard-trained musician and professor of history explores the fascinating entanglement of classical music with American foreign relations.
Dangerous Melodies vividly evokes a time when classical music stood at the center of American life, occupying a prominent place in the nation's culture and politics. The work of renowned conductors, instrumentalists, and singers―and the activities of orchestras and opera companies―were intertwined with momentous international events: two world wars, the rise of fascism, and the Cold War.
Jonathan Rosenberg recovers the politics behind classical music, showing how German musicians were dismissed or imprisoned as the country's music was swept from American auditoriums during World War I―yet, twenty years later, those same compositions could inspire Americans in the fight against Nazism while Russian music was deployed to strengthen the US-Soviet alliance. During the Cold War, Van Cliburn's triumph in the Tchaikovsky Competition in Moscow became cause for America to celebrate. In Dangerous Melodies, Rosenberg delves into the singular decades-long relationship of classical music and political ideology in America.
Editorial Reviews
"Rosenberg smartly frames this history as a battle between a 'musical nationalism' that saw classical music as a projection of national diplomacy and influence, and a 'musical universalism¹ that emphasized its power to unite humanity…Classical music aficionados will find much enjoyable lore from a time when the music was at the center of international rivalries." —Publishers Weekly
"A richly detailed and freshly illuminating musical/political history." —Kirkus Reviews (starred review)
Details
Available Formats :
CD, Library CD, MP3 CD
Category:
Nonfiction/Music
Audience:
Adult
Language:
English
To listen to this title you will need our latest app
Due to publishing rights this title requires DRM and can only be listened to in the Blackstone Library Beta app
DRM (Digital Rights Management) is a copyright protection for digital media. While much of Blackstone Library Beta's content is DRM free, and allows for usage across platforms, select products on Blackstone Library Beta are required by publishers to have DRM protected files. These products will be playable exclusively on the BlackstoneLibrary.com apps, available for iOS and Android devices.
To listen to this title you will need our latest app