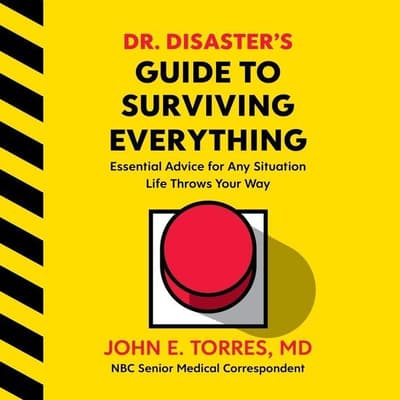 Dr. Disaster's Guide to Surviving Everything: Essential Advice for Any Situation Life Throws Your Way
By John Torres
Unabridged
Format :

Library CD

(In Stock)
Available on 04/13/2021

ISBN: 9780358541226

Available on 04/13/2021

ISBN: 9781665060691

Available on 04/13/2021

ISBN: 9781665060684
Category:
Nonfiction
Audience:
Adult
Language:
English
Summary
A practical, all-encompassing guide to disaster preparedness—from avalanches and blackouts to pandemics and wildfires—from NBCNews senior medical correspondent and emergency medicine physician Dr. John Torres
Few medical doctors are more impressive or media-savvy than Dr. John Torres, aka "Dr. Disaster." An emergency room physician and US Air Force veteran, Dr. Torres has spent his career on the front line, saving lives in all sorts of disasters. In his role as senior medical correspondent for NBC, Dr. Torres provides sound and medically proven advice and insight for the entire nation, keeping us well informed as we face the COVID-19 pandemic.
In
Dr. Disaster's Guide to Surviving Everything,
Dr. Torres shares the essential advice you need to survive any emergency and worst-case scenario, from natural disasters like lightning strikes, hurricanes, and pandemics, to human-made ones like terrorist attacks and active-shooter situations. Dr. Torres has seen it all, from late nights treating patients in the ER to early mornings covering the country's latest crisis on NBC/MSNBC as a medical correspondent. His entire job is to think about the best practices that will allow each of us to be self-sufficient in an emergency—and now he's sharing this hard-won knowledge with readers.
Unimpeachable, reliable, and at the same time, highly readable, this book is full of hacks that could save your life, such as
Why you should never use a landline during a thunder storm
Where the safest place to sit on an airplane really is
How to start a fire with common household items
The first thing you should do every time you enter a shopping mall
With Dr. Torres's voice in your head and this guide in your pocket, you will be ready for anything, no matter what the future holds.
Details
Available Formats :
CD, Library CD, MP3 CD
Category:
Nonfiction
Audience:
Adult
Language:
English
To listen to this title you will need our latest app
Due to publishing rights this title requires DRM and can only be listened to in the Blackstone Library app
DRM (Digital Rights Management) is a copyright protection for digital media. While much of Blackstone Library's content is DRM free, and allows for usage across platforms, select products on Blackstone Library are required by publishers to have DRM protected files. These products will be playable exclusively on the BlackstoneLibrary.com apps, available for iOS and Android devices.
To listen to this title you will need our latest app