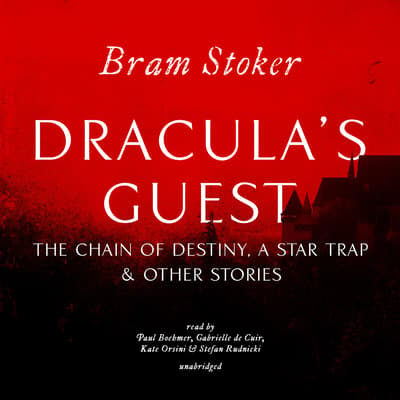 Format:

CD

(In Stock)
Available on 02/18/2020

ISBN: 9781094093277

Available on 02/18/2020

ISBN: 9781094093260

Available on 02/18/2020

ISBN: 9781094093284
Category:
Fiction/Classics
Audience:
Adult
Language:
English
Summary
Best known for his masterpiece of horror, Dracula, Bram Stoker wrote a number of other novels and many short stories, all with supernatural themes or filled with a physical terror reminiscent of Poe. The title story, "Dracula's Guest," was originally part of the great novel but was excised and published separately. The accompanying stories, such as "The Squaw," "The Judge's House," and "The Burial of the Rats," are classic tales of the macabre in their own right. From torture chambers and murderous prophecies to vengeful ghosts, these haunting stories illuminate Stoker's mastery of horror.
Contents:
"Dracula's Guest"
"The Judge's House"
"The Squaw"
"The Secret of the Growing Gold"
"The Gipsy Prophecy"
"The Coming of Abel Behenna"
"The Burial of the Rats"
"A Dream of Red Hands"
"Crooken Sands"
"A Star Trap"
"The Chain of Destiny"
Details
Available Formats :
CD, Library CD, MP3 CD
Category:
Fiction/Classics
Audience:
Adult
Language:
English
To listen to this title you will need our latest app
Due to publishing rights this title requires DRM and can only be listened to in the Downpour app
DRM (Digital Rights Management) is a copyright protection for digital media. While much of Downpour's content is DRM free, and allows for usage across platforms, select products on Downpour are required by publishers to have DRM protected files. These products will be playable exclusively on the Downpour.com apps, available for iOS and Android devices.