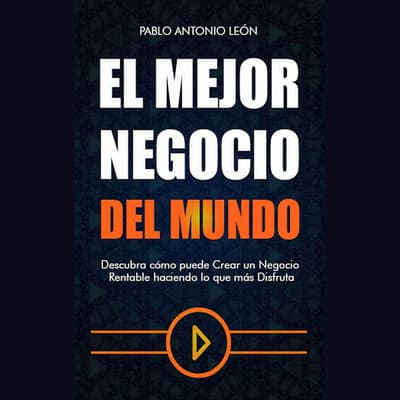 El mejor negocio del mundo: Descubra cómo puede Crear un Negocio Rentable haciendo lo que más Disfruta
By Pablo Antonio León
Read by Eddie Rojas
Unabridged
Format :

Library CD

(In Stock)
Available on 03/05/2021

ISBN: 9781713579557

Available on 03/05/2021

ISBN: 9781713579557
Category:
Nonfiction/Business & Economics
Audience:
Adult
Language:
Spanish
Summary
Te voy a mostrar cómo puedes crear un negocio propio que te permita cambiar tu vida y disfrutar al máximo todos los días.
Muchas personas desean dedicarse a lo que aman, pero no saben cómo empezar, también necesitan más dinero, pero no saben cómo generarlo, simplemente están en búsqueda de la felicidad financiera.
La felicidad financiera sencillamente la obtenemos cuando aprendemos a ganar dinero haciendo lo que más disfrutamos en la vida.
Desde ese instante nuestros días son mucho más placenteros porque nos dedicamos a un negocio y podemos ganar dinero ayudando a otros, compartiendo nuestro talento con el mundo. Si no has podido conseguir lo que esperabas, llegó la hora de darte una segunda oportunidad como lo expresa el gran autor best seller en finanzas personales Robert Kiyosaki, hoy es el momento perfecto para que comiences el camino hacia tu libertad financiera.
Voy a compartir contigo el triángulo de poder que te permitirá conocer tus fortalezas para luego buscar oportunidades de negocio con ellas, también te mostraré cómo implementar hábitos inteligentes en el manejo del dinero para que puedas acelerar el crecimiento de tu negocio o de tu emprendimiento.
Es el momento de emprender un negocio sin miedo, con la certeza de que siguiendo las claves que te voy a enseñar vas a crecer de forma exponencial en el proceso.
Quiero invitarte a que hoy te des la oportunidad de crear un nuevo estilo de vida, haciendo lo que más disfrutas y creando un negocio con tu talento natural.
¿Te atreves a intentarlo?
Please note: This audiobook is in Spanish.
Details
Available Formats :
CD, Library CD
Category:
Nonfiction/Business & Economics
Audience:
Adult
Language:
Spanish
To listen to this title you will need our latest app
Due to publishing rights this title requires DRM and can only be listened to in the Blackstone Library app
DRM (Digital Rights Management) is a copyright protection for digital media. While much of Blackstone Library's content is DRM free, and allows for usage across platforms, select products on Blackstone Library are required by publishers to have DRM protected files. These products will be playable exclusively on the BlackstoneLibrary.com apps, available for iOS and Android devices.
To listen to this title you will need our latest app