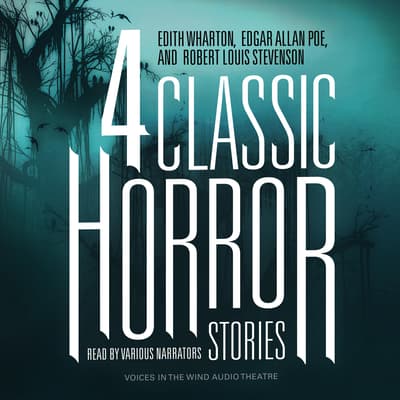 Format:

CD

(In Stock)
Available on 02/25/2020

ISBN: 9781094094410

Available on 02/25/2020

ISBN: 9781094094403

Available on 02/25/2020

ISBN: 9781094094427
Category:
Fiction/Horror
Audience:
Adult
Language:
English
Summary
A Voices in the Wind Audio Theatre production
This collection features four spine-tingling horror stories to entice your imagination, including "Bewitched" by Edith Wharton, "The Black Cat" by Edgar Allan Poe, "The Body Snatcher" by Robert Louis Stevenson, and "The Tell-Tale Heart" by Edgar Allan Poe. Each story is chillingly enhanced by music and sound effects.
Four Classic Horror Stories is best listened to by candle light at the midnight hour, when the wind howls 'round the house and ghosts whisper from the dark shadows!
Details
Available Formats :
CD, Library CD, MP3 CD
Category:
Fiction/Horror
Audience:
Adult
Language:
English
To listen to this title you will need our latest app
Due to publishing rights this title requires DRM and can only be listened to in the Downpour app
DRM (Digital Rights Management) is a copyright protection for digital media. While much of Downpour's content is DRM free, and allows for usage across platforms, select products on Downpour are required by publishers to have DRM protected files. These products will be playable exclusively on the Downpour.com apps, available for iOS and Android devices.