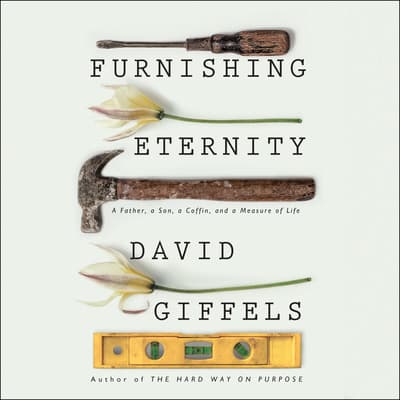 Format:

Library CD

(In Stock)
Category:
Nonfiction/Biography
Audience:
Adult
Language:
English
Summary
A Literary Hub Pick of the Week
David Giffels grew up fascinated by his father's dusty, tool-strewn workshop and the countless creations—both practical and fantastical—it inspired. So when he enlisted his eighty-one-year-old dad for the unusual project of building a casket, he thought of it mostly as a way to learn and to spend time together. Life had other plans.
The unexpected death of his mother and, a year later, of his best friend, coupled with turning fifty and the growing realization that his father won't always be around for such offbeat adventures, leads to a harsh confrontation with mortality and loss.
In this soulful, panoramic memoir and father-son story, Giffels confronts some of the hardest questions common people face with wisdom and humor, unraveling the absence and presence of the people who define us and taking a true measure of life. Furnishing Eternity is the story of a year brought down by loss, a family finding hope in its roots, and the unexpected epiphanies to be found in the things we build. Heartfelt, unvarnished, and piercing with insight, this powerful memoir is Giffels' most intimate exploration of the values and traditions that illuminate the Midwest.
Editorial Reviews
"Tender, witty, and, like the woodworking it describes, painstakingly and subtly wrought." —New York Times Book Review
"Giffels treats heavy themes with a light touch and deadpan humor, drawing vivid, affectionate portraits of loved ones in the richly textured setting of Akron, Ohio.." —Publishers Weekly
"A lifetime's worth of workbench philosophy in a heartfelt memoir about the connection between a father and son." —Kirkus Reviews
Details
Available Formats :
CD, Library CD
Category:
Nonfiction/Biography
Audience:
Adult
Language:
English
To listen to this title you will need our latest app
Due to publishing rights this title requires DRM and can only be listened to in the Blackstone Library Beta app
DRM (Digital Rights Management) is a copyright protection for digital media. While much of Blackstone Library Beta's content is DRM free, and allows for usage across platforms, select products on Blackstone Library Beta are required by publishers to have DRM protected files. These products will be playable exclusively on the BlackstoneLibrary.com apps, available for iOS and Android devices.
To listen to this title you will need our latest app