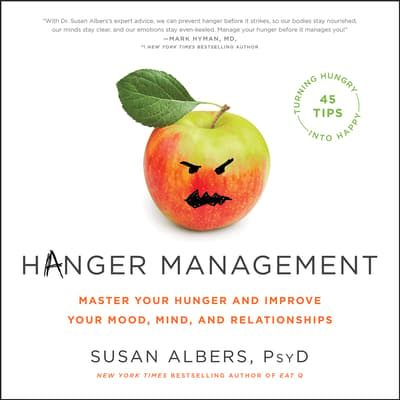 Hanger Management: Master Your Hunger and Improve Your Mood, Mind, and Relationships
Unabridged
Format:

Library CD

(In Stock)
Available on 12/24/2019

ISBN: 9781549129216

Available on 12/24/2019

ISBN: 9781549129193
Category:
Nonfiction/Health & Fitness
Audience:
Adult
Language:
English
Summary
The complete program for mastering your "hanger," from mindful-eating pioneer Dr. Susan Albers -- with 45 tips to turn hanger into happiness.

It happens to all of us. One minute you're happily going about your day, and a few seconds later you're a snappy, illogical version of yourself. The culprit? Hanger.
We're living busier lives than ever before, and when we forget to eat -- or accidentally overeat -- hunger can make us angry, unreasonable, and dull, with big impacts on our emotional and psychological well being. And hanger can become a cycle. When we get too hungry, we're more likely to make food decisions we regret, which sets us up for another hanger crash later on.
The good news: when we make better decisions about food, we think more clearly, connect better in our relationships, and improve our performance. Hanger Management is the book that can help you break this cycle and create healthy habits that fuel and empower you.
In Hanger Management, New York Times bestselling author and clinical psychologist Susan Albers sheds light on the causes of hanger, and shares 45 of her best tips for managing it well. By learning to stay on top of your hunger cues, cultivating a better understanding of your appetite, and creating a better overall relationship with food, you'll become happier -- and healthier -- for life.

Details
Available Formats :
CD, Library CD
Category:
Nonfiction/Health & Fitness
Audience:
Adult
Language:
English
To listen to this title you will need our latest app
Due to publishing rights this title requires DRM and can only be listened to in the Blackstone Library Beta app
DRM (Digital Rights Management) is a copyright protection for digital media. While much of Blackstone Library Beta's content is DRM free, and allows for usage across platforms, select products on Blackstone Library Beta are required by publishers to have DRM protected files. These products will be playable exclusively on the BlackstoneLibrary.com apps, available for iOS and Android devices.
To listen to this title you will need our latest app